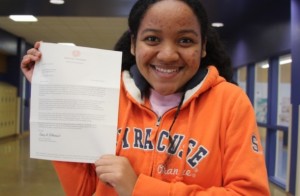 While a majority of seniors are still waiting anxiously for their acceptance letters from their dream schools, one student has already achieved her first big dream.  Charlene Hinton, a quiet yet determined senior, received an acceptance letter from the college of her dreams: Syracuse University in New York.  Hinton had applied early decision to the university in November.
"Although I've never been to the campus, I feel that it is the only college for me.  There's just something about the place that calls to me," she says.
According to Hinton, she "fatefully stumbled upon Syracuse while obsessively browsing through MIT's admissions blog."
"When I found Syracuse in the summer of my sophomore year, I instantly fell in love.  I had to get accepted!" she exclaims.
Hinton's epiphany for choosing her college major happened during her Web Design project after being elected group leader.
"Thanks to SWCTA's Web Design program, I realized that I wanted to be a project manager.  Syracuse miraculously has the perfect program for my major.  After consulting with the recruiter, I will be pursuing a Dual Degree in Information Technology and Management from the iSchool and Whitman School of Management," she declares.
In order to qualify for Syracuse's admission requirements, Hinton labored through numerous SAT practice tests, maintained her 4.0 GPA, polished her resume, created connections with teachers and counselors, and more.
"I painstakingly made sure that [Syracuse] won't have any reason not to accept me.  I even made sure to establish connections with the university by attending a virtual college fair online, where I met the associate admissions representative," she adds.
Through her constant contact, Hinton landed an interview with one of the alumni who is part of the admissions committee.
"I felt that it was important to make these connections so that they could see my serious interest and determination to attend their institution.  I did this all to make sure that I get accepted because to be honest, I was betting my entire future on Syracuse.  It was either Syracuse or no college at all," she admits.
Hinton is grateful for all of the people who inspired and supported her in the journey to Syracuse.
"I'm thankful for my mom, dad, my brother Paulo, friends, and family.  They want to see me succeed, and I want to make sure I do just for them. Ultimately, though, I just want to inspire others with my own accomplishments," she concludes.