There are gadgets, such as your phone or the TV, that can be distracting while doing homework in bed or at the kitchen table. According to the article, "They Do It All While Studying" by Chris Gaither of the L.A. Times, teens between the ages of 12-17 are distracted by social media sites and it can affect their academic performance. Among respondents who had homework, 53% of students ages 12 to 17 said they did at least one other task while studying. However, there are ways to study, while minimizing distractions.
Follow these simple helpful tips below to complete your homework quicker and improve your productivity.
1. Set a schedule
Set a time when you are going to start your homework and try to finish it in a timely manner. Make sure to work on your assignment in the same order each night. This helps because you will know what homework is coming up next and it will help you remember what you still need to complete. For example, do your homework in the order of your classes. Having an "A day, B day" schedule means you have an extra day to do your work.  A good idea would be to split the work into two nights:  complete half the assignment on the night it was assigned and finish it the next night to make the workload lighter.
2. Work on easier homework first
By finishing light homework first, such as simple worksheets or vocabulary, it will allow your brain to gradually transition into harder tasks like essays or complex math assignments. Then hopefully, your more difficult homework will seem like a cinch.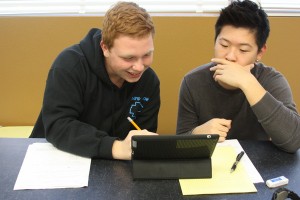 3. Break times
Take short breaks, about 5-10 minutes each, two or three times during a session, while working on homework to allow your brain to rest. Break time is always my favorite when working on my studies. During these breaks, have a light snack of fruits or veggies and let your brain recuperate. Taking breaks when working on homework gives the brain some time to rest. When getting back to work, you will feel driven to finish.
4. Study location
Every time you do your homework, make sure to work in the same location whether it be at your desk or in a home office. This trains your brain to associate specific places with homework. Try working on homework at the kitchen table, an office, library, or desk. It really does matter where you decide to work on your homework.
5. Bad places to do your homework
DO NOT do your homework on your bed or in any place you feel is 'comfy.' It gives you the leeway to lay down and fall asleep when exhaustion strikes since you will most likely fall asleep while doing homework, and when you wake up, you will not feel like finishing. Working at desks and tables are the best places to work because it allows you to sit up straight and focus.

Loading ...
We all know that kids would rather be on Facebook or Twitter than doing homework, but if you follow these easy tips, homework will seem like a breeze. You can finish homework faster and have more time to socialize and have fun with friends.