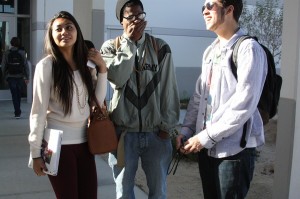 With the hot summer sun bidding us a farewell and autumn with its chilly weather quickly approaching, it is time to put the summer clothes away and bring out the fashionable clothes.

Why cover only your feet? Cover your calves too!
Knee high boots are slowly making their way into the school's hallways this season. Whether these boots have laces or zippers, leather or suede, they are comfortable, affordable, and durable. Knee high boots are easy to pair with any autumn outfit such as a sweater and jeans or some leggings, an oversized shirt, a cardigan, and an accessory.
"I see black or brown knee high boots that are either suede or leather being worn a lot at school. I absolutely adore my knee high boots because they keep me warm and they're so comfortable!" sophomore Mya Constantino said.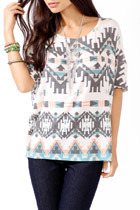 Print it!
Colorblocked and simple clothing is popular with the majority of SWCTA students, but many SWCTA students will surely wear printed clothing for the next few months since it's a trend this season. Having prints on tops and jeans will attract attention to the clothing, and maintain originality.
"Students should wear tops or pants with prints on it when they're wearing a casual outfit so the top will be the centerpiece of attention. I always wear a piece of clothing with printon it," freshman Jaysa Dizon said.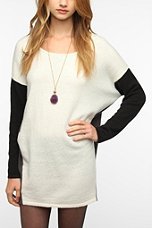 Oversized, in style
Oversized sweaters can go with almost any outfit, especially with printed bottoms and knee high boots. Oversized cardigans are also in this season and both are perfect for a casual day.
"Oversized sweaters are perfect for this autumn weather. Students should wear oversized sweaters with a pair of skinny jeans and some comfortable boots or flats," sophomore Abby Andoy said.

Add all the colors of the wind
Blue jeans have always been a clothing staple, but colored jeans are the new "must have" of the season amongst teens. Celebrities like Lauren Conrad and Vanessa Hudgens have made colored denim a popular trend and now students are taking it to the classrooms. Denim can come in any color, from black to white; it is a fashionable bottom that's sure to stay in style for a few more seasons.
"Everyone needs to buy colored denim. For a more innocent look wear pastel colored jeans, for a sophisticated facade you should wear dark colors like plum or burgundy, and for an edgy look go with black or red." junior Jamie Pallera said.
Autumn is the season of cooler weather and dark colors, changing scenery and changing your wardrobe. It's time you invest in fashionable trends that are sure to last longer than the estimated six weeks of a trend's lifespan, making your purchase even more the while to buy.

Loading ...