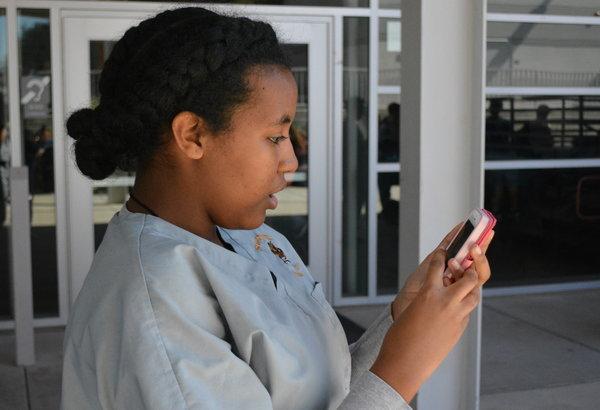 You're scrolling through your news feed, selfies and cat photos going by in a blur. Then you see the caption, "OMG! Breaking news! I can't believe this happened!" Piquing your attention, you decide to click on it to see what the post entails. However, what you read may not be completely true.
"I've been reading that Ebola can spread through the air, but I found out that in order to get it, there must be contact from person to person," freshman Jay Soria said.
Nowadays, most people are a part of social media, whether it be through Facebook, Instagram, or Twitter. With the selfie pictures, tweets and up-to-date statuses also comes hard-breaking news about terrorist groups, celebrity deaths and riots.
"I'm always hearing about social issues, politics and celebrity scandals on social media," junior Carlo Miciano said.
However, there are numerous options available to gather news from other than social media. Established news sites are a resourceful go-to place for individuals to find information. Despite this, news sites are quickly losing popularity with the rise of social media.
"My go-to place for news are online sites or I try to use actual news sources," junior Gierael Ortega said.
According to a study conducted by Pew Journalism Research Project, a quarter of Americans ages 18-29 use social media to receive news, meaning millions of people are finding out about the latest serious international crisis amongst posts that aren't as crucial on a national level.
"I usually see news of what's going on in the celebrity world, but I know that some of the information could've been manipulated," junior Vahina Li said.
With the majority of stories appearing on Facebook and Twitter, it's not hard to imagine that the person on the receiving end of the post may get their facts confused. Many users find that the information they heard was later proved to be incorrect, and 11 percent of users submit their own content online.
"A lot of times when I'm on Tumblr I'll see a news post, do some research on it, then find out none of it was true even though the post has hundreds of thousands of reblogs," sophomore Kylavel Carlos said.
Additionally, many major news stories have first appeared on social media; one of which is the raid and death of Osama bin Laden. The announcement arose when a neighbor tweeted about the noise, without realizing what was happening next door. When a story appears on social media first, not all of the facts may be included. Alleged celebrity deaths reported through rumors are an example of misuse of facts.
"I once read that Miley Cyrus had died and I was in total shock; I had no idea if it was true or false. Luckily I later learned it wasn't real," Misiker said.
After reading over a post or tweet, people decide to share the news with their followers, resulting in a share, like, or retweet. This act leads to a repeat of the previous statement, causing for a widespread of information that may not be factual.
"People can be biased and when they have the power to "report" the news on social media, it's hard to say if they are credible since anyone can alter the news," junior Xueying Zheng said.
While social media is great for its intended purpose of being social, it isn't guaranteed to provide news stories that are legitimate, as some of the facts may not be right. When an interesting report rolls across your feed, try to go to New York Times, Washington Post or any verified source for factual information. Utilize dependable news sources to ensure what you are reading is credible and true, which will lead to spreading of correct information.
"Most 'news' on social media is rumors, and by using credible sources backed up with facts, more honest information can be spread throughout the world," sophomore Janeen Soria said.