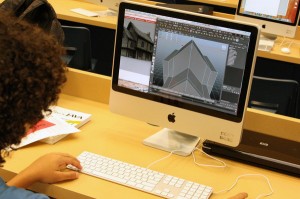 Students and faculty are trying out new and innovative ways to alter the traditional "book work" type of schooling daily at SWCTA. Mr. Craig Statucki, video game design instructor, uses this year's school motto–Be the change you want to see in the world–with the 20% Project.
"The 20% Project is an opportunity for Game Development Juniors to work on a project of their choice as long as it relates to game development. The students will spend approximately 20% of each class period working on the project," Statucki said.
Statucki's idea originated during a conference where he heard about Google's policy on employee work. Employees at Google are allowed to spend 20% of their work day on any project of their choice. Similarly, students will spend 80% of the period on the lesson plan for the day, and the other 20% on the student's chosen project. Although the 20% project does allow for more freedom than most other projects students have had, students must still keep in mind that the project must relate to game design.
"Even though the project [allows for a lot of freedom and creativity], there are guidelines. The students must [create a playable game]," Errab Castro, a junior in the game development program, said.
Each game design junior doing the 20% project is allowed complete control over his or her group and idea. Students were allowed to work in a group of any size, including working alone. Statucki told the class that they could all form one main group if they wanted.

Loading ...
"What I'll be doing for the project is making a 2-D beat-em-up similar to Castle Crashers or Double Dragon," said Castro. "The idea came from Behemoth, a game company that mainly uses Flash for their graphics. Since I love Adobe's Flash software, I tried to focus my game in it."
At the end of the year, each group will present what they have created and what they have learned. The group will receive a pass or fail grade, depending on whether or not they met the requirements of the project. Statucki doesn't expect for any group to present a fully finished game, but to have learned something new.