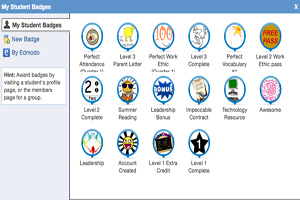 Starting the 2011-2012 school year, Freshmen English teacher, Mr. Matthew LaPorte, introduced a new classroom incentive program based on video game principles called "gamification." This program includes badges and experience points given to motivate his incoming students. Over the summer, he worked with teachers from different states over Edmodo, a school social learning network; they collaborated on a way to encourage students to keep them motivated to complete the work, besides just the grade.
"Earning badges makes me feel like I've accomplished something," explains freshman Tom Hagen, "Badges also a great way to persuade your parents that you are doing well in class!"
Depending on the material that is being taught, students earn badges and XP based on criteria LaPorte establishes for each lesson or project. Gaining more XP allows students to complete levels and move up in the rankings.
"It took a while to catch on, but now I have students making suggestions for new badges and different ways to gain 'experience' in my class, either through their academics or citizenship," says LaPorte.
During one activity, students were able to brainstorm different badges that they would like to try to earn throughout the school year. After writing ideas on sticky notes, LaPorte went through and decided which ones would best work.
"The badge I really want to work towards earning is the 'Handsome Badge' because I came up with the idea," says freshman Ralph Gallo.
In a public-speaking activity, students partnered up and had to explain why their partner was the most awesome person to be able to earn an "Awesome" badge. The class then voted on whom did the best job and those individuals earned the badge and XP.
LaPorte hopes that this gamification will create a positive competitive spirit and affect the students in the classroom as well as academically.