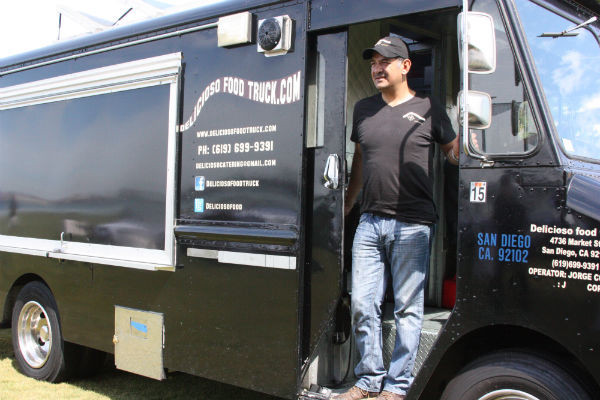 With roughly 6,000 high school journalists, educators and guest speakers in one hotel on the bay side in the city of San Diego, CA, conventions that take place within this city are faced with the challenge of feeding thousands of convention delegates, members and students.
"We have to tell our outlets, such as Starbucks, about all the information regarding the convention. Age range is important and we might have to run specials to encourage those who came to buy from there," Senior Event Manager at the Hilton San Diego Bayfront Hotel Alphonso Moore said.
Most specifically, accommodations and modifications to certain meals must be made for individuals who have special dietary needs and preferences, meals must be pre-cooked or pre-packaged for quick service and delivery, and businesses and customers alike must endure the longevity of rush hour.
"We try to accommodate the guest as best as we can. We get a lot of gluten free customers so we try to take it out for them," Soleil @K Supervisor Rosa Flores said.
Individuals attending the JEA and NSPA "Making Waves" High School Journalism Convention at the Hilton San Diego Bayfront Hotel are offered a plethora of ways to satisfy both their tourist and hunger needs that meet these factors. For instance, the Gaslamp Quarter, located a few blocks from the hotel, is a district featuring places for entertainment, dining and urban shopping. Dining in the Gaslamp Quarter offers a variety of many different styles of food  and styles of cuisine, having roughly 100 different places to dine at ranging prices.
"I think the Gaslamp Quarter is so cool, because I'm not from this city and there's a lot of variety and good food to choose from," convention participant from PA, Emily Gibbs said.
[vision_pullquote style="1″ align=""] Staff members are at high request, meals are prepared in advance and reservations are made for customers with a large group. [/vision_pullquote]
Restaurants such as Soleil @K located inside the San Diego Mariott Gaslamp Quarter Hotel must provide hospitable and quick service when there is a convention taking place inside the hotel, due to an increase in the number of customers. Staff members are at high request, so meals are prepared in advance and reservations are made for customers with a large group. Bigger staffs, at most, must make reservations beforehand or find themselves either divided into two groups for dining.
"We're getting a lot of business from the convention at the Hilton, and we're staffing as much as possible. Dietary needs are common, but we have special options like gluten and sugar free items," Sweet Things General Manager Jake Scornavacco said.
Because staffs with more people understand that not all hotels can seat more than 20 individuals at one table, they usually travel in smaller groups to make dining easier and more convenient.
"Depending on if people want to walk, restaurants that are closer to the convention get an increase in their customer base. Whenever there's a convention here we always make sure  to have a big staff with a lot of servers and have all of our tools and meals pre-made," Flores said.
Additionally, Maryjane's Coffee Shop located inside the Hard Rock Hotel in Gaslamp Quarter conducts a "Grab n' Go corner," allowing convention members to quickly grab breakfast before beginning their day. However, these in-hotel restaurants are not the only places that must accommodate and feed tremendous crowds of people from conventions. Participants from the "Making Waves" event are given the opportunity to fine dine inside the Hilton Hotel, enjoy coffee and yogurt around the corner and taste meals from food trucks just across the street.
"Lunch hour is very busy. We do a lot of major events through appointments. Each truck is able to handle about 200 orders each," Delicioso Food Truck Owner Jorge Cortez said.
There are seven ways to fulfill all hunger needs inside or around the Hilton Hotel: Vela, Odysea, The Pool Club, Fox Sports Grill, Sweet Things and Starbucks. In addition, during lunch, there are five different food trucks across the street scheduled for quick service at reasonable prices. The Hilton Hotel also provides room service for convention participants that would rather rest in bed.
"It depends mostly on what the customer wants, but we try to accommodate all guests. If they want room serviced food, they're planned with our in-hotel restaurant. A lot of the customers find it more convenient to just eat at the restaurant since it's inside the hotel," Front Desk Representative from the San Diego Mariott Gaslamp Quarter Hotel Diana Carillo said.
Convention participants who are busy and must eat within close distance to the convention center might find themselves dining inside the hotel or succumbing to the trend of food trucks. Other participants, who have time, are able to venture into the Gaslamp Quarter and easily find a place to eat. Individuals who want a quick, sweet snack before heading into a session or write-off can quickly navigate themselves to Starbucks or Sweet Things. All in all, members of the convention have the freedom to choose where they want to dine.
"We just found about the food trucks and now we're going to try them out. We ate at the Fox Sports Grill last night because it was in the hotel and it was good. I think we're gearing more towards eating at the Gaslamp, though," Convention participant from IL, Giovanna Zavell said.
Food trucks in San Diego, CA, attract a lot of customers and are very popular. In fact, most of the food trucks have schedules arranged months in advance and can service roughly 200 customers at a time. Not only are they targeted specifically for individuals who do not want to pay a high price for food, but they are made to deliver with fast service to convention participants who possess a busy schedule.
"We try to keep the wait time short, because customers want their food right after they order. We've modified our equipment to make cooking a lot faster and quicker," Devilicious Food Truck Owner Kenneth Danko said.
On account of the fact that there are roughly 6,000 "Making Waves" convention participants, many businesses are placed under the pressure of servicing large crowds of people at a time. With other factors such as the amount of people waiting to be seated and special dietary needs determining where these participants will eat, there are enough dining restaurants to meet the expectations of every customer.
"When we have to cater for a convention, the chefs always make special dietary dishes for the guests that might order that type of food prior to the event. Our hotel has a 'kosher kitchen' so we really do try and accommodate everyone," Moore said.
The following story has been recognized as an "Honorable Mention" by the JEA during the 2014 JEA/NSPA Journalism Conference for "Online News Packaging."