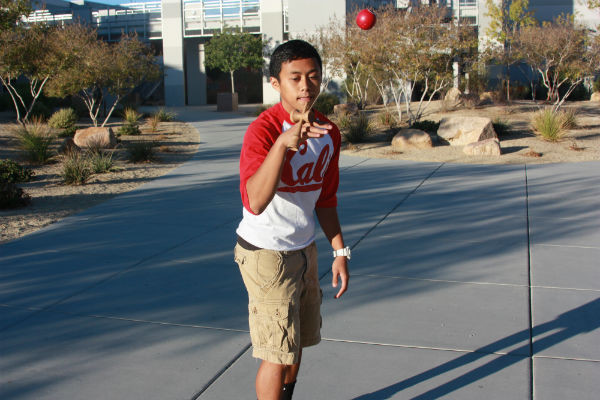 Students display their talents through singing, dancing or playing an instrument. However, junior Charles Cruz expresses his talents by playing the Kendama.
Shadow: What is a Kendama, and how is it played?
Charles Cruz: Kendama is a Japanese skill toy which is intended to improve patience, focus, determination, and hand eye coordination. It is played by pulling the ball upwards and catching it in one of three cups or impaling it on the spike.
Shadow: When did you start playing the Kendama?
CC: My friends from Liberty inspired me to play because the Kendama looked really fun and something cool to show off to your friends.
Shadow: How long have you've been playing?
CC: I've played for about a year now.
Shadow: What was your first experience when playing the Kendama?
CC: My very first experience was actually really hard. I was barely skilled enough to be able to catch it in the bigger cup.
Shadow: What tricks can you do?
CC: I am able to catch the ball on every cup, spike, down spike, airplane, jumps tick, earth spin, frying pan, ken flip, gunsling, UFO, hand roll, finger roll, clack, birdie, orbit, lighthouse, stilt and lunar. All of which have the same aspect of catching the Kendama, but in a more unique and challenging way.
Shadow: Out of all the tricks, which is your favorite one?
CC: My favorite trick is the hand roll. It is basically having the kendama and tama (ball) swing and wrap around my hand by the string and then unwrap to grab the ken (whole handle) and catching the tama by the cups or spike.
Shadow: How often do you practice?
CC: I practice whenever I get the chance. I like to learn more difficult tricks as the time progresses.
Shadow: With the skills that you have, would you ever consider of competing in a Kendama Competition?
CC: Maybe if it was for fun, since I only played it for a year, I'm still an amateur, but I will continue practicing to become better.