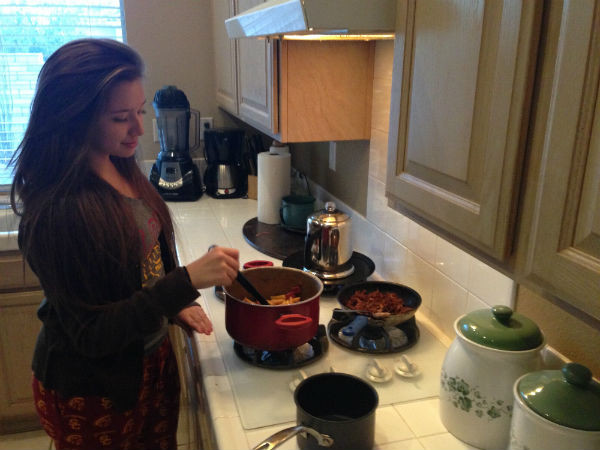 Sophomore Krystal Chaidez has a great passion for cooking. Although she is not in the Culinary Arts program, she considers cooking to be her ultimate hobby.
Q: What inspired you to start cooking?
A: My dad inspired me. When I was little I used to love watching him cook and once I became old enough, he gave me lessons on cooking.
Q: Why is your dad your inspiration?
A: He's a chef, so I always loved to help him cook and it made me want to start cooking.
Q: When did you start to cook? How old were you?
A: I started to cook when I was 10 years old, once my dad started to help me.
Q: Is there a specific type of food you like to cook? What is it?
A: I like to cook Italian food the most because I love pasta and being creative with my dishes.
Q: How did you learn to make this dish?
A: It was one of the first dishes my dad taught me to make. When I was little, he would let me push down the edges of the pasta and the next thing I knew, I was making the dish for myself.
Q: Who are your favorite people to cook for? Why?
A: I think my favorite people to cook for are my family because they are always willing to eat my food. I love that they are not afraid to give me feedback, this way, I am always improving.
Q: Does your family have a large impact on your cooking?
A: Definitely, I love to impress them and prove to them that I have a special talent.
Q: What makes your food special?
A: I am able to put creativity in my food. For instance, when I am making pasta, there isn't a certain sauce that has to go with it. I can just use what I have and still make it taste great.
Q: Would you ever consider being a chef? Why?
A: Yes, because I like to experiment with different ingredients and would love to share that with the world. There are so many interesting aspects of cooking, which I would be able to experience as a chef.
Q: What is the most interesting thing that has happened to you while you were cooking?
A: One time I was making deviled eggs and I went to put the paprika on the top for a finishing touch and I tripped over my dog and spilled the bright red paprika all over him!