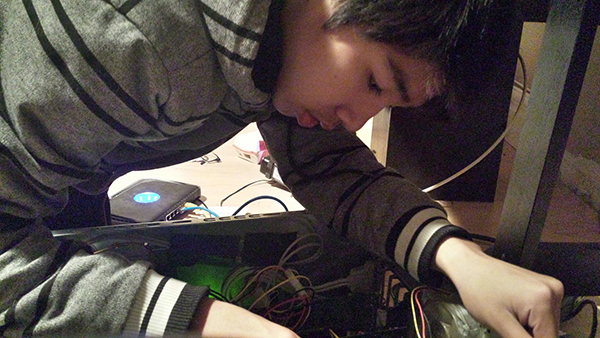 Many know sophomore Ezra Ocampo as an athletic and sporty individual, with a deep passion for basketball. However, once the game is over, Ocampo builds computers in his spare time. With a stash of parts ranging from monitors to central processing units, he  unleash his building skills to create a hub that he uses to connect with family and friends.
Southwest Shadow: When did you start making computers and what made you want to start?
Ezra Ocampo: I guess last year or two years ago, I wanted to start because I liked building things. Even when I was little, I would build a sword out of paper and [attack] my brother with it. I just liked that, but, one, I like building things, like Legos. I was playing Legos yesterday with my cousin. He's 13. I get to play with my cousins on the internet. We could play online games and everything. One, it's a fun experience, and two, I get to hang out with my family.
Shadow: When you build a computer, do you build it by yourself or with anyone else?
EO: When I'm about to build, I build with my uncle. I'm like, "Help me with this, I want to make it better," because my uncle's a computer tech guy. He fixes, builds, and everything, so might as well ask him.
Shadow: Were you inspired by your uncle to build computers?
EO: No, I was watching this guy named Felix. He's on YouTube, Pewdiepie. And I was like, "Oh, that looks pretty cool." He was editing videos and everything. I was thinking, "Maybe I can do that." I decided to make my own video game, but I deleted it because I didn't like it. I started over 20 times.
Shadow: What was the game about?
EO: Well, I didn't finish it. I finished making the script. This one, he can move and stuff, and jump and shoot. He shoots missiles out of his M16. The point is to save a girl, like a Super Meatboy.
Shadow: So you know how to script games too, and not just to build computers?
EO: Sort of. I'm a little bit shady on that. So he mostly inspired me, Pewdiepie, and this guy named CinnamonToastKen. Their perspective on what they do, people think it's dumb, like it's a waste of their time. They do it because they love it, and their work ethic. They always do it, they try to post one a day. Their dedication and love for what they do.
Shadow: What was the first computer you've built?
EO: I didn't really build it, it was a laptop. And I just tried to fix everything about it. I try to take out all the viruses in it, I tried to make it run faster. I searched up for hours on how to make it faster. You have to go to command prompt and type in "percent", "temp", "percent", press enter, then delete everything, and it makes it faster. I made my uncle's computer faster.
Shadow: Your tech uncle or a different uncle?
EO: Yeah, my tech uncle, and I just improved computers little by little. I'd start off with a little, and then a lot.
Shadow: How do you get money for this?
EO: I sell. When I was little, I would collect basketball cards. I would just collect them because they looked cool. I would sell them and people would bid on them. After a while, I just had to save and find whatever I could find. You know how in basketball you do whatever it takes to win? It's like that with computer building. You do whatever you can to build the computer and you do whatever you can to win a basketball game. I do whatever it takes to win.
Shadow: How do you react when people say, "Oh you build computers," and they get mad?
EO: Well, I still would tell them. I seem like a sporty guy, but I always have that nerdy side. I don't know, it doesn't really matter. If they think I'm weird, I don't get mad. If one person gets mad or make fun of me, and they're in my gym class, I say, "Just wait until we get to basketball because then I'll destroy you."