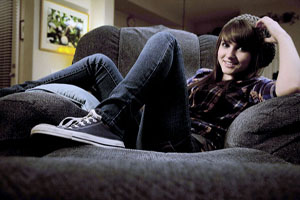 Cassie Finley-Jones, a 19 year old currently pursuing her music career in Las Vegas, used to walk around her home, in Albuquerque, New Mexico, singing songs from the animated Disney film, "Pocahontas" at the top of her lungs.
"I've sang ever since I was little and I can't go a day without listening to music.  It's my escape and my therapy," says Jones.
Her love for music and singing began when she was just a little girl. At the age of 12, Jones' realized her true singing talent at a karaoke party. Soon after, she began taking voice lessons from Mr. Pringle. He was her first voice coach and is the man who inspired her music the most.
"He was one of the most amazing people I've ever met in my entire life. He became a part of my family. He kept me going through tough times in my life and helped me discover how much music was truly a part of me," declares Jones.
Jones was in a "garage band" during her senior year of high school. Close to Jones' high school graduation, her band had a falling out and broke up. Jones, along with a guitarist from the band, left the group and they created their own acoustic project.
"Remember that music is an art form and everyone has their own opinion about art. If you're happy and you're are doing what you love, don't ever let anyone put you down," says Jones.
Today, Jones' is writing and recording songs that are a mix between acoustic, rock, alternative,and country. One of Jones favorites is "Car," which portrays her fun and easy-going personality.
"I love 'Car' because it makes me laugh and I love how everyone complains that it gets stuck in their head," states Jones.
Currently, Jones continues to write her own songs and performs them locally. She has also been involved with her church by singing or preparing music for their worship band. Music isn't Jones only passion; she also loves photography and is working on opening her own photography business.
In 10 years, Jones hopes to have signed a record deal and an album released.
"Music is one of the best medicines in the world. It can make happiness even sweeter, it can heal a broken heart, it can dry tears, or it can give you a reason to scream. And, I love being a part of that," declares Jones.