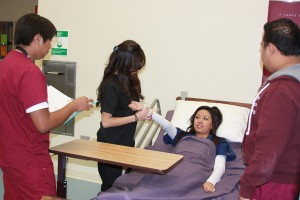 With the year slowly coming to an end, the nursing juniors of SWCTA anticipate one more event, clinicals. They will be completing these clinicals at the Nevada State Veteran's Home from April 27 – May 19 to complete 20 hours of work-experience to receive their Certified Nursing Assistance certification.
"Well, I'm getting more hands on practice and training during each lab we have. I wouldn't say that I'm fully ready for clinics, but if I get more practice then I think I'll be ready," junior Adrienne Lapid stated.
At the clinics, students will do bed baths, change bed sheets, and transfer the patient from their room to another room. These tasks will be either be completed with a partner, or with the assistance of the charge nurse at the veteran's home.
"The labs are really helpful. It's better than reading it from the book because getting hands on is more realistic than reading," Ashlyn Robinson commented.
Nursing students are starting to feel pressure as the first day of clinics comes closer, but before they head out, they need to complete the minimal requirements. These include immunization shots, a physical examination, a Tuberculosis skin test, drug test, and a background check. If a student fails to complete any portion of these requirements, they will not be eligible to participate in the clinics and will not receive their C.N.A certificate.
Another way to become ineligible for the C.N.A. certificate is by missing a clinical day. Students are required to have 20 hours at the veteran's home with their instructor, Ms. Jan Monroe. Students' will not be able to make up these hours.
"I'm scared that I'm going to do everything wrong, like I touch the patient when I'm not supposed to, or I measure something wrong. But, the more practice I get , the more confidence I'll have," said Mary Aman.
Upon completion of the clinical, Nursing students will walk out with a sense of accomplishment, and a step closer to becoming a nurse.