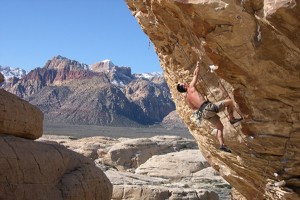 Scaling a mountain is not an easy task. Trying to hold on to a smooth piece of rock, while supporting your body weight and anticipating your next move is like a game of "human chess." For Mr. Michael Moore, Mr. Jonathan O'Brien and Mr. Dennis Goode, this is not only an extracurricular activity, but it's a major part of their life.
"Mr. Goode, Mr. O'Brien and myself have enjoyed many adventures and days at cliffs laughing, sharing strategies for successfully completing hard climbs, and talking about life in general," Moore said.
Moore and Goode both enjoy cliff climbing, which requires elements of gymnastics and clipping bolts on sheer or overhanging cliffs/caves. O'Brien, on the other hand, is more "traditional" and climbs up long, tall mountains via rock that has formed a corner, an arete, or by a "splitter" crack in the rock.
"Climbing is a way for me to push my physical limits, constantly learn my limits and evolve, and climbing allows me to take the process of goal setting and logically apply it to other aspects of my life," Moore said.
Not only has Moore been rock climbing for the past fifteen years, but he's also established new routes. To him, putting up new courses is the ultimate way to give back to the climbing community.
"What makes establishing a new route special is the first ascent. I really feel that this process builds patience, character, belief, and appreciation," Moore said.
Goode began climbing when he was a senior in high school and enjoyed the challenge that rock climbing had to offer. Both him and Moore exchange strategies for successfully completing difficult climbs, one reason Moore looks to Goode as a mentor.
"Sport climbers climb rock because it is hard. One must be in great shape to sport climb, and must practice and train to climb well," Goode said.
O'Brien climbs twice a week and his personal goal is to continue to equip and author his own sport routes.
"[Bolting new routes] is so cool to me because there is a limited number of places to rock climb," O'Brien said.
In the future, O'Brien's personal goal is to lead "The Warrior" a goal he's been working toward for close to five years. Goode's goal is to keep sport climbing, since it's a rewarding feeling to climb from the bottom to the top of a mountain without falling. Moore's goal for the next few months is to go on a route called "Sunsplash" located in the front corridor of the sandstone quarry at Red Rock . . . if it ever stops raining.
If you're interested in learning how to get started, or simply need advice to improve your climbing skills, you can visit any of these climbing extraordinaires in either the "C" or "E" building before or after school, or you can visit the Red Rock Climbing Center on Charleston.