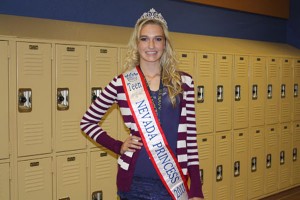 Although her beauty and poise may surprise some, freshman Tayler Schatteman is a girl who truly wants to make a difference in the world. And what better way to make a difference than earning the title of Miss Teen Nevada Princess 2011?
Schatteman began the pageant process about six months before she was crowned on Feb. 26, 2011, and will hold the title for one year.
"The pageant process included many things such as: preparation, dance rehearsals, wardrobe, hair and make up, interview, and walk practice. When you throw in pageant weekend, it ends up being a six month process," states Schatteman.
Schatteman believes pageants are not just about winning the crown and sash, but should represent what the reigning title holder can give back to her community.
"Sometimes people do treat me differently. At some events I get stares from other girls my age, which I just clearly ignore because they do not know the person under the sash and crown," commented Schatteman.
Because Schatteman truly feels she has something new to offer from past Miss Teen Nevada Princesses, she has a dream of making an original change in the community.
"As Teen Nevada Princess 2011, my platform is 'Honoring the Wisdom' and celebrating the lives of all elders. My goal is to involve the younger generation with our senior communities. I have not met another teen title holder that has created their own platform," states Schatteman.
Although Schatteman never imagined herself as a pageant princess, her modeling agency suggested she try it out.  In the process of competing, Schattemen looks to different role models for guidance.
"For modeling, Tyra Banks inspires me to never give up and to always reach my highest potential. Also, my mother inspires me to never give up in achieving my goals," explains Schatteman.
Besides her pageant career, she is also a member of the U.S Naval Sea Cadet Corp. For the next four years, Schatteman will receive hands on training in naval tactics and skills. Though she currently is in the culinary program, she hopes to switch to nursing, which in time will benefit her future medical goals.
Aside from her busy extracurricular activities, Schatteman still makes time to serve the community by assisting at Lake View Terrace, a senior facility. She also likes to spend her time working out, as she calls herself a "fitness fanatic."
But as they say, all great things must come to an end.  When Schatteman passes on the title of Miss Teen Nevada Princess 2011, on Feb. 26, 2012, she will never forget the little children with big smiling faces wanting to take a photo with her when she was crowned as one of her most fond memories.