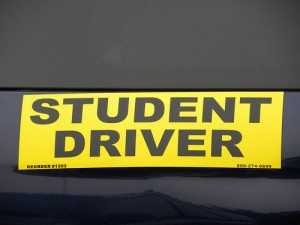 As a child, most dream about the day they can drive, not knowing that there are requirements and procedures in order to obtain a driver's license or permit.
"I would like to get my permit as soon as possible," says sophomore Sabrina Floyd.
If you want to get your license and you are under the age of 18, you must first complete a driver's education course consisting of 30 hours of classroom instruction. You must be 15 years of age to enroll. This course is a requirement for a driver's license, but not an instruction permit.
Next, students must complete behind the wheel experience of 50 hours if you have completed the driver education class. Ten of these hours must be completed during nighttime. Also, there must be a licensed driver over 21 years old who has had their license for over a year seated next to you while practicing. A written log of the date, time, and parent or guardians signature must be recorded on a form provided by the DMV and it must be submitted when applying for the license.
Teenagers who are within six months of their sixteenth birthday can obtain their driver's permit is by passing a vision and written test with at least a 20/40 with one eye, and by having a parent or guardian sign the financial responsibility portion of the application. The written test consists of 50 questions and must be passed with a score of 80 percent.
Sophomore Breanna Waelty says to, "study the driver's handbook, but not the beginner's handbook. All the questions on the test are from the driver's handbook."
The first time you take your permit test, a fee of $25 is required take the written/vision vision test. If you fail the test, there is a fee of $10 to retake the test. A payment of $22 is required to receive the actual permit.
"It's a long process, but it's worth the wait," says Waelty.