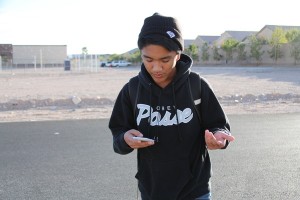 Q: How long have you been rapping?
A: I've been rapping since 6th grade.
Q: Since when has rapping been an interest of yours?
A: Rap or hip-hop in general has just been a passion of mine my whole life. Music is my life, and my interest for rap was there ever since I was born.
Q: How do you develop your raps?
A: It depends on how I feel but most of the time I think of the lyrics, write it down, edit, then record.
Q: Describe the reason why you rap.
A: I rap because it is just a way to vent and let everything out, to prove that not only a small minority can make it into this industry, and because it is a passion of mine.
Q: When you rap, how do you feel? Do you need to be in a specific emotional state?
A: It really just depends how I feel when I write the rap. If I rap about a sad topic then I'll put a depressed feeling or tone into it. Also, you kind of do need to be in a specific emotional state because if you are rapping about a sad topic, but you're happy, it won't flow well and won't be as relatable.
Q: Competitions are a typical must for aspiring rappers; do you plan to join in any?
A: I've always wanted to go to L.A. and enter a rap battle which I doubt will happen, but I do rap battle with friends.
Q: Are you motivated or inspired by any rappers?
A: I look up to a bunch of rappers, but if I were to narrow it down to two people for their coast gangster style which is a very chill vibe, it would be Kendrick Lamar because his writing style reminds me of the old west, and Dumbfoundead, who is a lyrical genius.
Q: Explain what role music plays in your life
A: Music to me is a way to get your story or feelings heard. It's a way to say or express your emotions to people without having to talk to them about it. It is an outlet for some people, and a way just to express the way you feel in a song that rhymes and sounds soothing or nice.

Loading ...
Q: How has rapping helped you become who you are today?
A: Rapping has helped me alot in my life, as it allows me to express the troubled times in my life and help me vent about how I feel especially when there was no one there.
Q: Do you envision rapping as a possible career?
A: Yes, but the instability in the rapping industry isn't something I can count on, so I plan to go to college and pursue the vocation of a music producer before I try and pursue my dream of being a rapper.