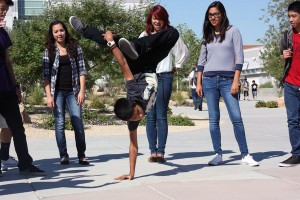 Q: When did you start to dance, and how did you start dancing?
A: I started to dance in the beginning of 2012, and I started by practicing with my uncle who also dances.
Q: What is your inspiration to dance?
A: My inspiration to dance is my girlfriend, and my uncle. Each time I learn something new, my girlfriends smiles and I always love seeing that. My uncle is my inspiration, because after all, he was the first one who taught me, and I want to be as good as him.
Q: How often do you practice dancing?
A: I practice an hour almost every day on weekdays, and around thirty minutes on the weekends excluding sessions I have with friends.
Q: Have you been in any dance competitions? If so, which ones?
A: I haven't yet been in a competition, but I've watched some of my friends dance in a competition and plan to do so late this year.
Q: Who is your favorite dancer, and why?
A: My favorite dancer is Victor Kim because his breakdancing style is so smooth and unique compared to other dancers.
Q: Do you plan to pursue dancing as a career?
A: I don't really plan to pursue a career in dancing, but I do plan to keep it on the side as one of my main hobbies.
Q: What are some of the moves you are known to do well?
A: Some moves I am known to do very well are flares, and spider freezes.
Q: What are some examples of the warm-ups you do before dancing?
A: For warm ups I do basic stretches, and I make sure to stretch all parts of my body because I like to incorporate my whole body when I dance.
Q: Do you prefer to practice alone, or do you like to go to jam sessions with friends?
A: I prefer to practice with friends, because my confidence is higher and its a great way to show off new moves and teach each other different moves.
Q: Why is breakdancing your passion?
A: Breakdancing is one of my passions because I can use it to express my feelings in many ways. If I'm angry, my dancing will be more rough and powerful. If I'm happy, my dance would flow and be more calm.