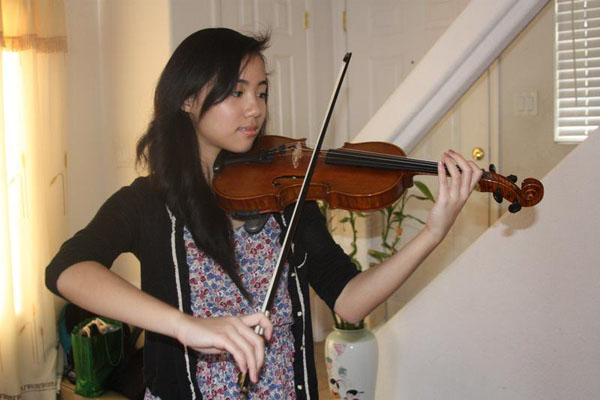 Q: How long have you been playing the violin?
A: I have been playing the violin since I started middle school. So, I've been playing for about four years now.
Q: What is your skill level?
A: I like to think that I am good. I am currently playing in the Las Vegas Youth Orchestra.
Q: How often do you practice playing the violin?
A: I try to practice at least five hours a week. I do most of my practicing on the weekends though.
Q: Who or what inspires you to be a violinist and how?
A: My middle school orchestra teacher, Dr. Kovacs, inspired my violin playing. She pushed the orchestra and was very tough on me. This only made me want to become a better violinist, and it motivated me to practice more and take private violin lessons.
Q: How do you balance playing in an orchestra, being a part of student council, and still getting good grades?
A: Well, I have always managed my time pretty well. Also, I have always worked hard in school, and I learned how to not procrastinate and make room for things. Playing the violin has always been one of my favorite hobbies, so it doesn't really affect my school work since it is a hobby. Being in student council is one of the best opportunities I've had to pleasure to be in. All of them just makes me who I am and balancing them is pretty easy.
Q: Have you played in any concerts or competitions?
A: I have played in too many concerts and competitions to remember the names, but I've performed at festivals and played in the Smith's Center.
Q: What is your favorite violin piece to listen to or to play?
A: I love "Canon in D" by Pachelbel. It is such an AMAZING and BEAUTIFUL piece. Just playing it makes me happy because it just relaxes me.
Q: Who is your favorite violinist?
A: My favorite violinist is Sarah Chang. She is so good and was successful at such a young age. I really admire her.
Q: How long did it take to learn to play the violin?
A: It takes about a year to be able to play the violin correctly and make beautiful music. You must be willing to practice and work hard though.
Q: Would you pursue a career as a professional violinist? Why?
A: There was a moment in my life where I wanted to be a violinist and not a doctor. Now, I find that being a doctor is a much better choice for me and I can't think of being anything else. I might teach private violin lessons when I'm older, but other than that, I will not pursue a career as a professional violinist.