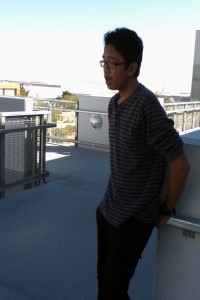 Q: How would you describe your singing?
A: I'm good since people have often told me I am good.

Q: When did you start singing, and what made you to keep singing?
A: I began at the age of three because I saw the people around me smile when I sang, so I wanted to continue to make people smile.
Q: How long do you practice?
A: I practice up to three hours a day every day.
Q: What do you plan on doing with this talent?
A: I plan to get famous and earn a lot of money by gaining recognition in talent shows like America/Philippines got Talent, and American Idol and will donate my earnings to a charity.
Q: Where do you feel your strong points lie in singing?
A: I believe one of my strongest points is thatI'm able to hit the high notes.
Q: What are some of the problems you've encountered when you began your singing career?
A: I sounded really bad, since I couldn't hit any notes correctly which made me sound like a sick frog.
Q: What has singing brought into your life? Has having this talent been useful?
A: Singing has brought many opportunities into my life as I enter and win various talent shows.
Q: What types of songs do you prefer to sing?
A: I prefer to sing old, classics songs like "I have nothing, I who have nothing" by Jerry Leiber and Mike Stoller and "Green a Green Grass of Home" by Claude Putman.
Q: What are some of your favorite songs to perform?
A: I feel like the songs that I am really good at are powerful, slow songs like "Never Walk Alone" by Rodgers & Hammerstein, and "Unchained Melodies" by Alex North.
Q: Do you play any instruments? If so, do you sing along with them?
A: I play the piano, flute, guitar, ukulele, and the saxaphone, but I simply focus on my voice.