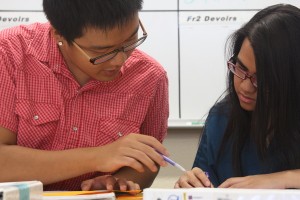 Q: When did you start heavily practicing mathematics?
A: I started when I was really young in China. I started by myself and worked by myself to excel in it.
Q: When did you start involving yourself in competitions?
A: I started when I was in middle school. We had little class competitions, and I usually won them all.
Q: How did it feel to represent Las Vegas at Nationals?
A: It felt really good and ever since then, I started to compete in other competitions as well.
Q: Did you have any new rivals in these competitions?
A: Like I said, I think that I'm number one in Nevada. I'm not sure if I have one, but if I do, I'd love to beat them.
Q: How often do you practice your mathematics?
A: I try practicing at least 2 hours a day, just doing some basic math and then going to harder [subjects] like Trigonometry and Calculus.
Q: When will your next competition be for math?
A: I'm going to compete in the math category in the SkillsUSA state competition.
Q: Do you sometimes feel bored solving math problems?
A: Yes I do; sometimes the problems get so difficult and I end up quitting.
Q: How do your parents support you in your competitions?
A: They buy me a lot of books and take me to classes. My father was a major in math so I want to try and follow in his footsteps.
Q: Are you involved in any other extracurriculars?
A: Yes, I play tennis for the Sierra Vista Tennis Team.
Q: Does being involved in tennis get in the way of your mathematics?
A: Not really; I practice tennis only when it's scheduled, but when I'm home, I practice whenever I want to.