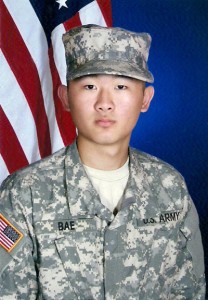 Q: Why did you decide to attend Basic Combat Training so early?
A: I want to get a head start on my military career, and I want to be able to attend college in the fall right after graduating. It was a whole grand master plan.
Q: What are your future plans in the army?
A: I want to become an officer of the US Army, and I want to try to make it my career, but I will see where college takes me.
Q: How did you feel the moment you arrived at the BCT?
A: I felt confused, but then I felt comforted because I realized that everyone else there was in my shoes too.
Q: What was your daily routine there?
A: I have to wake up very early in the morning, at 5am. on the dot. Right after I wake up, I would [use the restroom], and afterwards do PT (Physical Training).  Then I would eat breakfast, but we only have about 6 to 7 minutes to eat our food. Next up is our training for the day, and then eat lunch. After that, we resume training, and later on eat dinner. When that is done, I may have some personal time for myself to do my laundry or write personal letters. Lastly, I would sleep at 9pm.
Q: What did you have the most difficult time doing during your training?
A: The most difficult thing would be running because I'm not that good of a runner.
Q: Describe your training.
A: Our training was very intense, exciting, and sweaty. Each day our training is different. Some things I learned were shooting an M16 and M4A1, and also throwing grenades. We would have to crawl in the mud while it was raining. Also, we would have to go inside of the gas chamber and take off our gas masks so that we can experience CS gas, or tear gas as most people know it.  We've had 6 to 10 mile marches, had to sleep outside in the woods, and we shot machine guns, like the SAW (squad automatic weapon). There are also a lot of push ups, running, and getting yelled at by the Drill Sergeant.
Q: How did you communicate with family and friends and how often?
A: I got four 10 minute phone calls, but my first one was only 4 minutes long. Writing letters was the main form of communication for all of us. Every 3 days, I would get a letter.
Q: How did you like the BCT overall? Explain.
A: It was a life changing experience, but it was not very fun. I didn't hate it though, I kinda liked it. I enjoyed meeting new people from all over the United States, and making new friends from all over the United States. Shooting guns was fun too.
Q: What was your favorite thing about BCT?
A: My favorite thing would be my phone calls and letters. I also liked eating and sleeping. The food that they served is much better than the food we have here at home. I wouldn't mind eating that every day. With sleep, even if it was way before my bedtime and had to wake up early, I slept like a baby every night.
Q: What was your least favorite thing?
A: My least favorite things were South Carolina, the humidity and the ants. The ants were horrible. I also didn't like getting yelled at, but I didn't think it was that bad. His yelling just went through one ear and out the other.