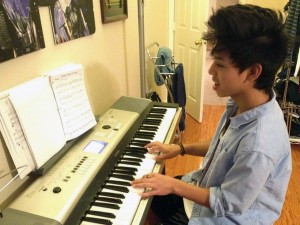 Q: When did you start to play piano, and what got you playing piano?
A: I started playing piano during the 6th grade, and my brother Nathan taught me the basics, and I just picked up along.
Q: Does your family have any musical background?
A: My brother and my sister, Gaby, play the piano occasionally. Other than that, all of my sisters have a knack for singing.
Q: How often do you practice the piano?
A: I often practice when I find an interesting song with a rhythmic beat to learn. Unlike most people who learn by looking at a sheet of music, I learn by figuring it out by ear, and replaying the song.
Q: Do you have any experience in shows, recitals, etc?
A: Although I haven't played in a recital for myself, I've played for choir shows during 7th and 8th grade.
Q: Do you plan to keep playing piano on the side of your career?
A: Yes, I do intend to keep playing piano throughout my early years, and eventually get myself a piano after trying for a job in the medical field.
Q: Do you sing while playing piano? Why or why not?
A: If I can play the song easily on the piano, then I usually try to sing along.
Q: What kind of warm-ups do you do to prepare for a show?
A: Some warm-ups that I used to help the students vocals are some simple scales (do,re,mi) to open up their vocal chords.
Q: What is your preference or genre of the music you play?
A: I usually try to play hip-hop or jazz music like the Nujabes or Michita.
Q: What is your favorite song to play, and why?
A: My favorite song to play on the piano would have to be the "Feather" by the Nujabes due to its upbeat notes. Although it is repetitive, it still gives a fun vibe to it.
Q: What is something unique about you that people at SWCTA recognize?
A:Other than piano, many people at SWCTA know me for my hair. I always make sure it is up to my standards, especially when it's messed up and whatnot.