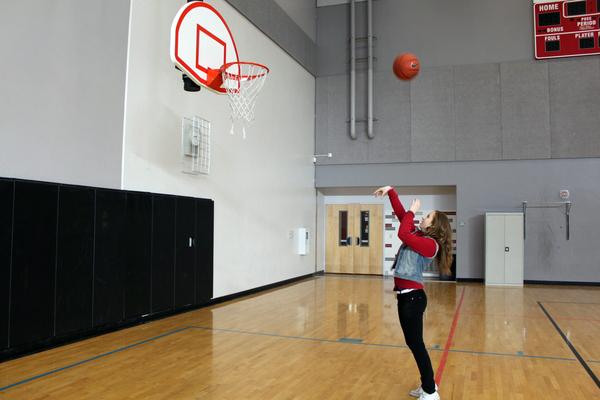 Q: What initially kindled your passion for basketball?
A: When I had my first game in middle school, it hit me that everyone in the crowd came to watch my team and me play on the court. That probably kindled my passion for basketball because it gave me a feeling of importance and meaning.
Q: When did you first start playing basketball and who did you play with?
A: I first started playing basketball for fun in the 6th grade with my sister and my cousin.
Q: When did you discover your interest to play on a basketball team?
A: I started playing basketball seriously in 8th grade for Faiss Middle School; I was usually a point guard.
Q: When you first began your basketball team experience, what emotions stirred up inside of you? Have those feelings changed over time? Why or why not?
A: When I first started playing ball, I was extremely excited and nervous. Both feelings came from having to play in front of lots of people. These feelings haven't really changed over time. I'm always excited to play, but I never get nervous to play in front of people anymore because I got used to being able to block out the crowd while I'm in a game.
Q: What position do you currently play on the court? Do you enjoy your position or would you rather play a different role and why?
A: The main position that I play is point guard. I also sometimes play shooting guard.  I really enjoy playing point guard because I feel like I have the most important role on the court which is to set up my team to score. I like to feel in control so when I have to set things up and bring up the ball it helps me build up confidence not only for myself, but for my team. Sometimes I wish I was really tall and could play post just because I feel like it would be easy for me to be aggressive, especially as a big woman.
Q: What basketball team do you currently play on? How do you feel playing alongside this team? Why?
A: I currently withdrew from Sierra Vista's basketball team. I'm looking forward to playing for a different team next season. I can't say which team exactly yet, but whichever high school I play for I will play for both my upcoming junior and senior years on varsity.
Q: Does playing basketball have a deeper meaning than just a hobby or pastime? Is it an important aspect of your life? Why or why not?
A: Yes, I believe that playing basketball is more important than just a game because it's become a part of my life and my daily routine. It's one of my main priorities.
Q: What has basketball done for you despite improving your skills on the court?
A: Basketball has taught me about life in general. From the little things like hustling after a dead ball to the big things like getting back up after I've fallen down, all those things have taught me life lessons. The most important thing that it has taught me is to never give up no matter what. Even if it means fighting through the hurt and pain, it will all be worth it one day.
Q: What is the most difficult aspect of basketball? Why do you believe that that is the most difficult aspect?
A: The hardest part of basketball is to get back up when you fall down; it's hard because that's when you start to doubt yourself and lose confidence. It's the most difficult aspect because it's hard to deal with insecurities and to find motivation to better yourself.
Q: Do you see yourself pursuing a career as a basketball player in the future? Why or why not?
A: Honestly, there is a one in a million chance that I will make it to the WNBA, but I love the game so much and if I continue to put in the hard work, I believe that I am capable of making it big. For now, I'm still experiencing new fields and sports so I am not 100% sure if I will become a basketball player in the future, but it would be a dream come true.