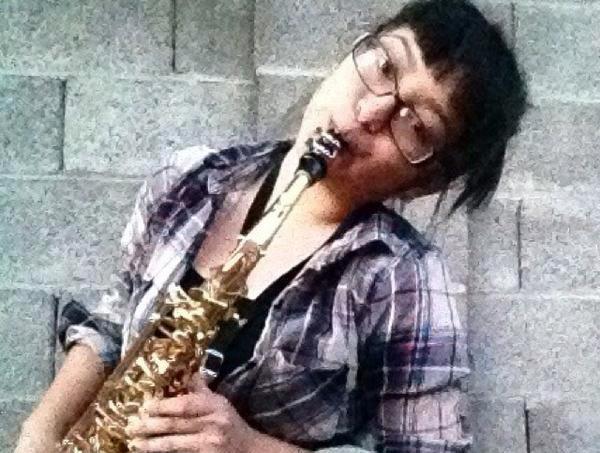 Q: How long have you been playing the saxophone?
A: I started playing the saxophone when I was in the 7th grade. In middle school, I selected band as my choice. At first I did not feel that I would like it but boy was I wrong. Soon enough I found out that playing the saxophone brought an amazing sensation.
Q: What made you want to play such a unique instrument?
A: I saw a great opportunity in being able to learn a new instrument in a different band for next year. After playing my first instrument, the flute, in 6th grade, I wanted to try a whole new instrument. My middle school offered an earlier class called "Jazz band" for intermediate and advanced students. The saxophone stood out the most for me based on its musical sound.
Q: Who or what has inspired you to continue playing the saxophone?
A: I can say that my band teacher was a big inspiration to keep playing. His major instrument was the saxophone, and I enjoyed hearing him play whenever he had the chance. My parents also inspired me to continue playing. It's because of their support that i was able to obtain an Alto Sax today.
Q: Which genre do you enjoy playing the most?
A: I really enjoy practicing the blues scale the most. Nothing can compete with the basics of the scale. The more I play the scales, the better I tend to get. It is great practice for different techniques.
Q: Name a few likes and dislikes about playing the saxophone.
A: I highly dislike the facts that I have to stretch my stubby fingers onto keys that are a bit too far to reach and how my saxophone strap strains my neck after playing for a long period of time. The best feature about the saxophone is the body of the instrument. It is simply beautiful! I absolutely love the sound of it too.
Q: Are there any saxophone players you admire? If so, who?
A: Sadly no, I haven't searched for significant saxophone players. But, the best players existed in the swing era of the 30's and 40's.
Q: Have you ever played at a concert? If so, when and where?
A: My first concert playing the Tenor saxophone was in fall 2009. It was pretty awesome to finally play with the upperclassmen in middle school.  We were a group of 17 kids playing to a big audience, and after that, I kept playing the saxophone until my last year of 8th grade.
Q: How many hours do you practice per day?
A: I would play around two hours every other day and three hours during the weekends. My biggest difficulty has always been holding my breath longer during bar measures. I'm still learning!
Q: Have you ever thought of playing another instrument? If so, what instrument?
A: I have been interested in buying the flute, but I've been thinking about learning the bass, the guitar, and maybe the drums.
Q: Do you plan on playing the saxophone in the future?
A: I definitely plan on playing in the future! Once this school year is over I'm spending my time practicing again because I stopped. I've been trying to keep up with school so much that I have abandoned my true love. And I wouldn't mind having a part-time job playing. My ideal plan is playing on the streets, just doing what I love, and I'd gladly accept donations. If it's a gift, why not share it?