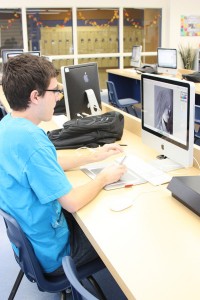 Q: What is your hobby?
A: My hobby is painting digitally.
Q: What started your interest in this hobby?
A: Mostly friend influences. I also try to feat other artists on the internet and make my art better. I believe that there is always room for improvement, despite how skillful you may be.
Q: Do you use this on a daily basis?
A: Yes. Every day, when I come home from school, I paint various things digitally. I mainly use Adobe Photoshop.
Q: What is a talent related to your hobby?
A: I draw very rapidly. I believe that every painting starts out as nothing. It could start out as a dot or a point, and it is up to the artist to see things differently and make their art come to life.
Q: How do you apply this talent to your program area?
A: Art can be anything, however, I mostly create catchy logos for web design.
Q: What is your dream college?
A: This is hard to decide, but if I had to pick, I would go to CSN and try to become an art teacher.
Q: How do you stay motivated?
A: I subscribe to various different artists, and like I said, I try to beat their art.
Q: Who is your favorite artist and why?
A: Dave Rapoza because he is talented and he looks beyond the obvious.
Q: Do you prefer drawing digitally or on paper? Why?
A: Digitally, because I mostly draw on Photoshop in my web design class. I also think that acrylic paint and brushes cost a lot more money.
Q: Do you think you will be famous for your art someday? Why or why not?
A: It is too early to tell, but I will continue to draw because this is what I love to do.