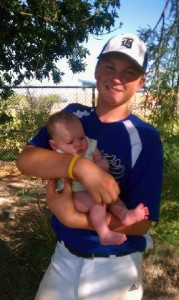 Q: What made you choose to play baseball, and what inspires you to keep playing?
A: I don't really know what made me start playing baseball because I started when I was three. The fun of the game, the awards and trying to constantly improve my skills is what inspires me to keep playing.
Q: In your opinion, what is the best part of playing baseball and why?
A: Baseball helps take away stress, and it keeps my mind off of other stuff.
Q: What school do you play for? What college do you plan on attending?
A: I play for Liberty High School at the moment, and I want to go to Oregon or MIT and play baseball there.
Q: Describe your normal baseball practice routine.
A: In practice, we do lots of running, leg work, reps, ground balls and batting practice. Ground balls are balls that are hit into the field of play and roll in the infield.
Q: What is your favorite position to play and why?
A: My favorite position is third base because I just like playing in the infield. I like the infield because you have to think fast.
Q: Have you won any awards? If so, what are they and how many have you won?
A: I've won a couple of tournaments, such as the Desert Fall Classic, USSSA Triple Crown and the Winter Blast. I probably won about 10 awards, but they don't really have awards like MVP because it wasn't at a high enough professional level.
Q: Is it hard balancing schoolwork with baseball? Explain.
A: Not really, because I haven't been playing high school baseball, but last year was easier. I expected it to be hard though.
Q: What are your future goals relating to baseball? How do you plan to achieve them?
A: My future goal that relates to baseball is to play in the minor leagues or higher. I plan to achieve this goal by practicing everyday.
Q: How long do you see yourself playing baseball?
A: I see myself playing baseball until I physically can't, and after that, I'll become a coach because baseball is a part of me that I will never let go. It wouldn't really matter who I would coach, whether it would be little league or even the major league.
Q: Do you enjoy any other sports? If so, what are they?
A: Other sports that I play include basketball and football, but I just like to play with friends. I'm not serious about basketball and football so I don't play competitively.