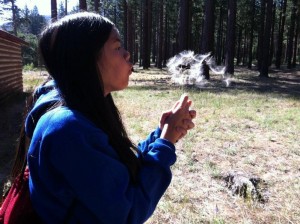 Q: Identify some of your short-term and long-term goals.
A: Some of my short-term goals seem simple but are important nonetheless. They are to get good grades and to graduate. Another is to look back at my last year of high school with no regrets and to look back at the past four years and be proud of what I've accomplished and who I've become. One of my long-term goals is to go to college and become a doctor. Right now becoming a doctor is my ultimate goal.
Q: What kind of doctor do you want to be and why?
A: Medicine has always been very interesting to me, so as long as I become even a general practitioner, I will be happy. Right now I'm not exactly sure what field I want to go into yet, but I am very fascinated by the human brain as well as the heart and lungs. I could follow in my brother in law's footsteps and become a pulmonologist and study the lungs if I wanted.
Q: What's your dream college?
A: My automatic answer is usually Stanford. I've been there and it's a great college with a gorgeous campus. But really I would love to go to any great college in California. It's close enough to home yet far enough that I can have my independence and explore other cities.
Q: In and outside of school, which extracurricular activities do you participate in?
A: Besides Key Club and Student Council, I also am a member of National Honor Society, DECA, HOSA, and Respiratory Therapy Club. I currently volunteer at PetCo for their dog adoptions.
Q: What leadership positions have you held during the last three years? What made you apply for these positions?
A: I was Key Club President and am now the Junior Adviser. In Student Council, I've been a Class Senator and Student Body Treasurer. This year will be my second year as Student Body Treasurer. I really love those two clubs and wanted to do more than just be a member. I wanted to be a part of the club, kind of like behind the scenes, and try to help others enjoy the clubs as much as I have.
Q: What leadership activities have you participated in during the summer? Why do you choose to do them?
A: This past summer I went to Girls State and Western Leaders Summit. Both are camps where students can go to learn more about their society, those around them, and themselves. I am always trying to better myself as a leader. I like challenging myself and having new experiences. It was fun to go to a completely new place, like Lake Tahoe and Chewelah, Washington, and surround myself with people I didn't know who were all student leaders themselves trying to learn something new.
Q: How have your leadership activities influenced your decision to have a career in medicine?
A: As a leader I've learned that helping others is important. When I was Key Club President, I tried my best to help my members help others through community service. A leader doesn't just order others around; you guide and support them too. Medicine is just the perfect way to combine my desire to help others and my love of the human anatomy.
Q: Which leadership skills that you are working on now do you believe will assist you for the future?
A: At Western Leaders Summit I learned that branching out is important. Meeting new people and talking to them can really make even the smallest difference in their lives. I hope to keep branching out to others in the future and recognize everyone's individuality. I know that the connections I create will help me succeed in life.
Q: Who or what has been your biggest motivator and inspiration?
A: My family has definitely been my biggest inspiration in everything I do. Everyone in my family is successful in their lives, which motivates me to do my best so I can be successful as well. They're also extremely supportive of me and that helps me keep going even when I want to give up. They really encourage me to follow my goals and just be myself.
Q: What advice would you give to people hoping to be like you?
A: Put yourself out there. It's hard to make a difference in the lives of people around you if you are shy and reserved. Don't be afraid to take risks and try new things, meet new people. Find what you are passionate about and pursue it. I found my passion for service, leadership, and medicine in high school through the clubs I've joined and the people I've met. Also, don't forget to just be yourself and stay positive. You should be able to look at yourself and say "I am happy with who I am."