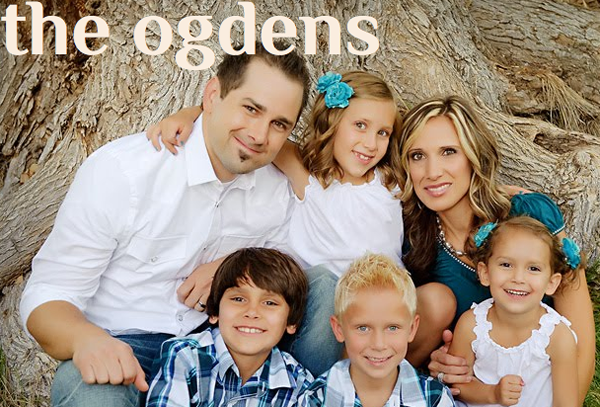 You would think that having five kids would be a hectic life, but Art I and Drawing I teacher Mr. Jared Ogden keeps up with the struggle by finding ways to "make it happen." Like TLC's "Kate Plus 8," Ogden and his wife must overcome problems that most families would think are too much, but nothing screams the word family man like Ogden himself.
Born and raised in Las Vegas,  Ogden was able to set up his life and work here in his home town. Meeting his wife at local Cimarron-Memorial High School, these high school sweethearts were able to rekindle their relationship that started way back at the age of 14 through one of their old friends.
"I love spending time with my family; they are the most important thing in my life," Ogden said.
Every Monday, the Ogdens host a family weekly movie night, where all of the members put everything aside to spend quality time together. During these nights, they pop a bag of popcorn and usually choose movies by using a voting system, or choose one of their favorites like Star Wars or Harry Potter. Aside from their weekly movie nights, Ogden plans various trips throughout the year in order for the family to stay close. These trips range from camping, fishing, and hiking, all the way to days dedicated to video games and movie watching.
"I want my family to always be close, that is why we follow the motto 'the family that plays together, stays together,'" Ogden said.
Besides the immediate family, Ogden and his wife always plan for extended family gatherings. With six siblings in Ogden's family, and three in his wife's, these two families always hold events where they can bond as one big happy family. These gatherings are planned at houses, parks, anywhere, but most importantly, they create memories that will keep their kin family-oriented.
What you may not know is that what makes Ogden and his family different from others, is that every memory they capture is stored all into their online family blog titled "The Ogdens". With this blog, family and friends can be updated with new information and events of the family, enjoying that close bond that they all share.
A big family like this is usually only seen in movies, yet Ogden and his family pull it off by keeping and strengthening their bond with each other. It sounds a bit hectic, yet Ogden deals with it because of how much love and passion he has for his family.
"With five kids it is a busy life, but at the end of the day it's all worth it," Ogden said.