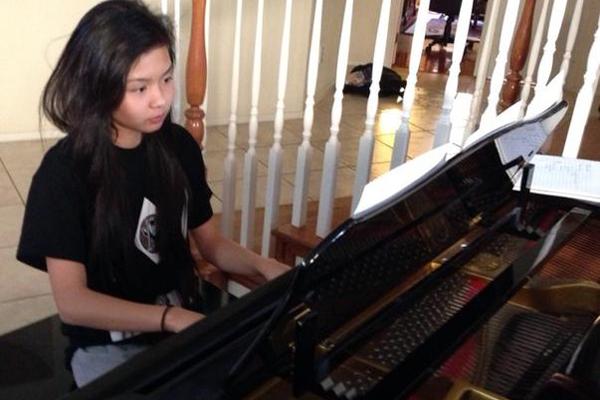 Q. How long have you been playing the piano?
A: I have been playing the piano since I was seven years old, which was when I was in first grade.
Q: How often do you take piano lessons?
A: I have piano lessons once every week on Mondays at my home. The time range for my piano lessons is 45 minutes to one hour, and I take private lessons.
Q: As far as playing the piano goes, who is your favorite musician and why?
A: My favorite musician is Ed Sheeran because he is really talented and his songs are amazing.
Q: In what ways does Ed Sheeran influence your piano playing?
A: Ed Sheeran's music is my favorite. He influences me to become a better musician, so that I can begin to progress playing piano.
Q: Is there a genre you prefer to play on the piano? If so, what genre and why?
A: I prefer to play classical songs on the piano, because it really soothes me when I'm stressed. I also like playing jazz when I'm in a more joyful mood.
Q: What accomplishments have you achieved playing the piano?
A: The accomplishments I had playing the piano includes going to competitions and winning first place. I had to participate by playing piano pieces that were chosen for me. In the past, I have won certificates by receiving the scores, superior and superior with honors, which are the highest ratings.
Q: How often do you participate in competitions?
A: I participate in competitions about three times a year. However, I do have piano recitals about 3-4 times too. The piano recitals help prepare for the bigger competitions.
Q: How do you see yourself as a musician 10 years from now?
A: I see myself continuing to be a pianist 10 years from now. However, I don't think I will professionally want to become a pianist. It will definitely be a favorite hobby of mine that I will continue doing.
Q: Describe your daily routine as a student and aspiring musician.
A: I manage my time to practice piano after I finish my homework. I always make sure I have enough time to practice and I plan ahead.
Q: Who is your biggest motivator?
A: My biggest motivator is my brother. His level on piano is far ahead than my level. Someday, I hope to achieve that goal.