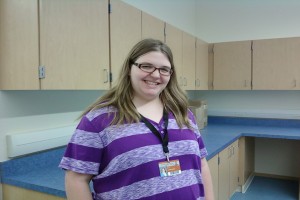 On Labor Day 2010, Courtney Downs, a junior in the Dental Program at SWCTA, witnessed a small plane, carrying four people, crash right outside her house.
Downs was awakened by sounds coming from outside the prompted her attention.
"The pilot used my street as a landing strip," commented Downs.
She went outside to find two individuals suffering from burns on her lawn. She ran inside and used the medical knowledge she learned at SWCTA to retrieve them water to drink and sheets for their burns.
She was featured on Channel 8 broadcast news twice that day and has also been featured in the Las Vegas Review Journal and the Las Vegas Sun newspapers.
She, along with other people in her neighborhood who helped, have been deemed heroes within their community.
"The day after the plane crash, I read the article in the paper and discovered that Courtney assisted at the scene.  I found her in Dr. George's class and thanked her for what she did.  She stated, 'I remembered all the training I received last year and didn't have to think about it.  I just started to help.'  I let her know how proud I was of her actions," said Principal Felicia Nemcek.
The experienced has changed her life, the life of the people in the plane, along with their families and the community.
"Sometimes it may seem like you don't know what's going to happen or how you can help, but just the little things can help contribute to the bigger picture" stated Downs.