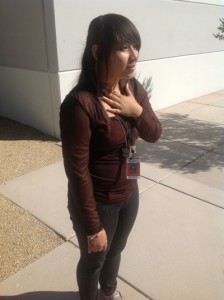 Q: When and where did you audition to become an idol?
A: I auditioned on July 29, 2012 at around 2:00 p.m. The audition was at the Wilshire Hotel in Los Angeles, California.
Q: Why did you choose to audition for SM Entertainment?
A: I was going to audition for YG Entertainment, but I never got the confirmation email back. Then, after awhile I thought about it and I decided that SME would probably be better because SM Entertainment (SME) is a very popular company that would automatically get you famous, debuting under that company.
Q: Explain the audition process and how long was it?
A: Well, before it all starts, you have to send an email to the audition manager, which requires your personal info like your name, school, grade, and also the category you are applying for. When you get your confirmation email you just practice, then when it's the day of the audition, you go to the audition venue. You're placed in a specific room or area to audition; however when actually auditioning, you enter yourself. The room I was placed in had 100 to 150 chairs set up, equipped with a small stage for the performances. The staff handed out forms for us to fill out pertaining to our skit and the judges read them as each person auditioned.
Q: Express your emotions during the audition.
A: While waiting for my turn to audition, I was very anxious and nervous, but during the audition I was absent-minded, and I did not know what was going on at all.
Q: Describe how you prepared for the audition.
A: The only thing I prepared was a couple songs that I practiced many times. The one song I mostly focused on was "Simple and Clean" by Utada Hikaru.
Q: Have you had any training for the audition?
A: Unfortunately I haven't done any training in the arts. I do sometimes practice piano, but no professional vocal lessons. I hope to take lessons next summer to further improve my vocal talent. I do join many singing contests. Despite this, becoming an idol is a dream I wish to reach and I'll work hard to reach it so that if I do become a singer, my talent wouldn't be questioned.
Q: Would you audition again and for another company?
A: When the opportunity comes, I would like to audition again. Preferably, I would like to audition for Woolim Entertainment.
Q: Is there a specific member position you favor?
A: The position I prefer is to be a main vocalist. I really like to sing and I've been told that I'm a good singer. The visual seems fun too but I know there are WAY MORE good looking people than me.
Q: Is the job of an idol what you have dreamed of becoming?
A: My first dream was actually to be a fashion designer. I planned to just having singing on the side, but my passion for singing grew as I got older. Luckily, I heard of this chance to become an idol, so I decided to take it.
Q: Clarify your inspiration.
A: What inspired me to do the audition were some of these variety shows of my idols. I watch them and see what they do. It seems fun to be close to people in a band and I wanted to be in a group like that just as 2NE1 or Girls Generation.