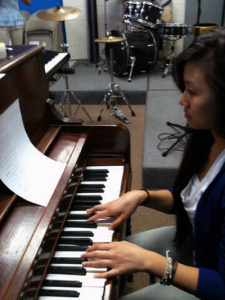 Q: Name some of the instruments you play.
A: Piano, guitar, drums, and I used to know ukulele.
Q: What's your favorite instrument and why?
A: Piano, I guess, because it's my first instrument and I love the sound of it. Plus, this is my most advanced instrument I can play.
Q: When did you start playing piano? What got you into it?
A: I was around seven I believe. And, I'm not quite too sure. As far as I know, I just started taking lessons and from there on begins my story.
Q: What or who inspires you to play music?
A: God is definitely one of my inspirations, but I just love it. It allows me to escape the world and to just relax and let things go.
Q: How have you managed to balance your school work and playing music?
A: Whenever I have free time, I'll play. At church, I mess around often during practice and what not.
Q: How have you incorporated music into your school work?
A: There was a history project from last year, and whatever project gives an opportunity for music to be used.
Q: What are some of your future goals with music?
A: Well, I'm part of the worship team at church. Although I love music, I'm being more realistic of doing something in the medical field for my future career, but I would l continue playing.
Q: Have you ever performed live? If so, what have you done and how did you feel about doing it?
A: I have performed in recitals. It's nerve-wracking. because I kind of have stage fright so performing for people makes me nervous.
Q: What do you like most about playing music?
A: The relaxing feeling you get and the joy from playing; the ability to develop your own sense of style or get inspired. Being able to escape the world and being able to express your feelings through it.
Q: What would you say your style is? What genre do you love most?
A: Slow music, like emotional ones.
Q: How has music changed your life?
A: It's allowed for me to be able to serve God by being on the worship team at church Music has helped through the rough times in life when I just need to escape from everyone and everything. It allowed me to express my feelings that I couldn't possibly say/show through creating or just playing around on different instruments. It's one of the only things that helps me relax because I am ALWAYS stressed. It's just fun and something I enjoy and love!