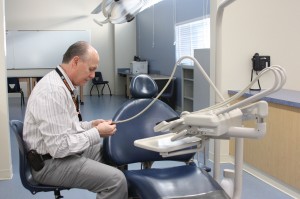 Katy Perry, Brittney Spears, Ludacris, New Boyz, Young Money, Taylor Swift. Would you expect a Biology teacher at SWCTA to have the latest pop music on his iPod? Dr. Michael Georges does. He also knows how to joke around and teach students in a way that they will remember the information and have fun at the same time. He was a dentist before he became a teacher here. He is also the leader of the dental program.
"Biology was my major field of study in college. I had a lot of advanced biology in dental school," Georges said.
Dr. Georges loves to learn about the human body, so he chose to major in biology in college. He also wanted to become a dentist and biology gave him an appropriate background that he needed to do well in the dental classes that he was taking.
If he could have chosen any other field besides biology to teach, he said, "I would teach anatomy and physiology, because it has more to do with the human body."
In his free time, he loves to fly model airplanes and play the piano. He doesn't have much free time, due to teaching and the education class he is currently taking.
One of his pet peeves is that "people that are talented, but don't work hard to use their talents."  People should not waste their talent when they have a great talent.
He became a teacher "because it makes him feel valuable and he love being around students." He also enjoys the energy and humor that the young people have.
He isn't teaching the dental program this year because he is currently developing the dental curriculum and teaching biology at the same time. He mentions he is "very excited about the starting of the dental program next year. It will be a blast!"