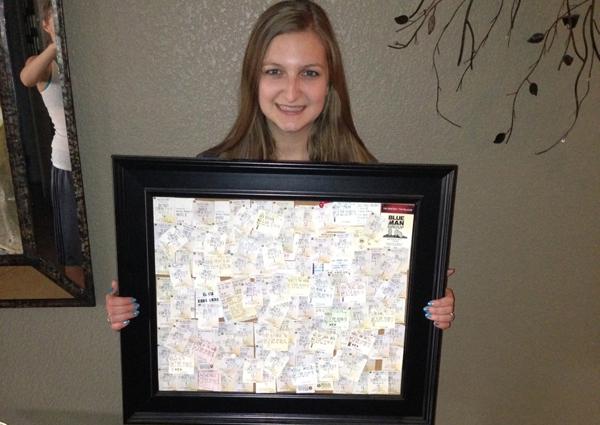 Q: What fascinates you about movies and why?
A: Movies are entertainment to me. I could watch it with family and friends and even by myself. I like every genre because it is so diverse; for example, an action movie can include comedy.
Q: What do your friends and family think about your fascination?
A: My friends think it's crazy how much I spend on it, and both my family and friends think it's cool too.
Q: Who is your favorite actor/actress and why?
A: I really like Mandy Moore in A Walk To Remember and Rachel McAdams in Red Eye. I like those actresses the most because they have no bad publicity.
Q: Do you collect your movie tickets? If so, what is the reason for doing so?
A: Yes, I collect my movie tickets because it keeps my memories alive. I used to organize them by movie theatre and by the auditorium number.
Q: What started your interest in making a movie ticket collection?
A: Since I go to the movies a lot, I figured it would be a good idea to start collecting my tickets. It's also a good way to keep my memories, like I could hold a ticket and remember who I watched that movie with and where I watched that movie.
Q: What is the total number of tickets you have collected?
A: I know for a fact that it is over 100 movie tickets.
Q: Is there a special place where you keep your collection?
A: I keep the collection placed onto a bulletin board in my room.
Q: Is there a specific order or are there special requirements to make it into the collection? If so, what is the order or requirements?
A: Sometimes my mom will find an old movie ticket and ask me if I want to add it to my collection, but I have to pass because I need to physically watch the movie in order to have the ticket make my collection.
Q: Do you have the collection organized in a specific way? If so, how?
A: Yes, I have to make sure that every single movie title is showing.
Q: How long do you plan on having this collection going?
A: Because I love movies so much and don't think I'll stop watching them anytime soon, this collection can go on forever.