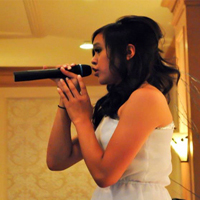 Q: When did you first develop your love for singing?
A: I developed my love for singing about two years ago after I quit sports.
Q: How did you learn to sing, and who taught you?
A: Most of the things I've learned to sing were all self-taught. I did take lessons, but because I could not afford them, I stopped after my first three sessions. When I self-taught myself how to sing, I recorded myself and listened to my tone and how I should sing it better.
Q: What are some techniques that you have learned while singing, and how have you applied that to how you sing today?
A: Techniques I've learned while singing is how to sustain my voice and how to keep it from being overused. I also learned how to belt a lot of my high notes without cracking my voice. However, the technique that I use a lot in my singing is my vibrato. My vibrato technique was something I could not control or learn from a book. As I sang more often, my vibrato became more sustained and very easy to control.
Q: How has your love for singing grown since you began two years ago?
A: I have developed my love of singing through my journey. I don't know where I would be without singing.
Q: How do your parents feel about your singing?
A: My parents are very supportive when it comes to following my dreams. They've always been there for me in my music career. Even though my parents and I have been going through a rough time these last few months, they are still there for me whenever possible.
Q: Who has been your biggest influence in your musical career?
A: My mom influenced me in my path for singing because after I quit gymnastics after nine years, I didn't know what to do anymore. She influenced me into singing and I grew very fond of it.
Q: Do you think that your singing will result in a career later on in the future?
A: With what I'm going through right now, my singing can possibly be a career. However, my goal right now is to finish high school and go to a university. Singing will always and forever be my passion, but school always comes first.
Q: What genre of music do you prefer to sing and why?
A: I don't have a specific genre; I sing because I like to explore my range and see what genre best fits my voice. However, most of the songs I sing are Disney, Broadway, or music like Celine Dion and Whitney Houston.
Q: Describe your feelings right before you are going to perform.
A: I have to admit I get scared before performances, but I always remember to just breathe and calm down. I remind myself that everything is going to be okay and that I am going to have a great performance.
Q: Have you ever performed at any special events? How was the experience?
A: Yes, I have sung at a special event. In May of 2012, a family-friend of mine, Sheila Diezmo, Fashion Design senior, asked me to sing at her 18th birthday party. It was a very formal event, and I did not know a lot of people. The experience was absolutely amazing, and the crowd was very sweet and complimented me about my singing during the party.