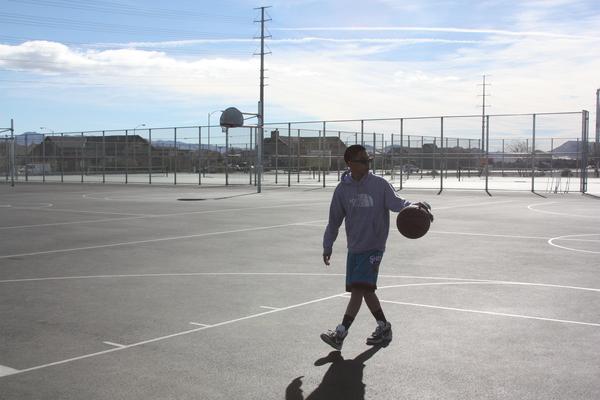 Q: When and why did you start playing basketball?
A: I started playing basketball at the age of 10. Back then, I would only mess around with the neighborhood kids, but I became serious about basketball in 6th grade.
Q: In order to play this sport successfully, which characteristics do you believe are vital for a basketball player?
A: Honestly, you just need to work hard. You don't need a special characteristic or trait to play basketball, and I know this because I have been the smallest guy on my team for the past four years.
Q: What do you love the most about basketball?
A: I love how basketball can bring people together who may be completely different, but who each love the sport. It brings us all together.
Q: How has basketball impacted your life for the better?
A: Basketball has been a huge role in my life. It has given me something to work on, by meeting new people to compete with and make new friendships.
Q: What do you plan to do with your basketball career after high school?
A: I plan to play basketball my whole life as a hobby, but going any farther than playing high school ball isn't part of my plan. I want to follow my dream of becoming either a chef, teacher, or physician.
Q: Who has been your strongest supporter of your basketball career?
A: There are many people that inspire me to get better at basketball. My teammates motivate me to do more when we compete, like Ezra Ocampo, Leslie Long, or my coaches, one of whom is Mr. Ocampo.
Q: List some of your achievements, awards, or accomplishments in basketball over the years.
A: Individually, I have won two awards. I was named MVP for my Amateur Athletic Union (AAU) team from California, and the second award was given to me for being the most inspiring, also from my AAU team. I have been a part of two team events, both district winning teams in middle school.
Q: If you could play for any team in the NBA, which team would you want to play for?
A: I would love to play for the Lakers, because when my dad was still alive, he would tell me his dreams of seeing me play on that court wearing that yellow jersey.
Q: Who is your NBA role model? Why?
A: Steve Nash, because he is a great shooter. I admire him mostly because he led Santa Clara in a good tournament. I was happy seeing that even though he was denied admission to the colleges he applied to, he got into Santa Clara and did great things.
Q: Describe what pushes you to succeed and further your training in basketball.
A: Basketball is one of the last connections I have with my deceased father. I play basketball, and it is like he is with me on the court.