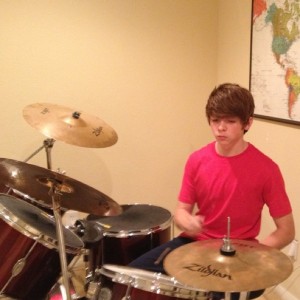 Q: How long have you been playing the drums? What made you decide to pursue this activity?
A: I started drumming about a year and a half ago, and started doing it because of my deep passion for music.
Q: How did you learn to play?
A: I learned from taking lessons.  When I first started, I took lessons from a teacher that taught piano and drums.  Now, however, I take personal lessons from Alex Stopa, the backup drummer for The Killers, and the lead percussionist in "Wicked."
Q: Is there a specific brand of drums or drum sticks you prefer?
A: I prefer 5A drumsticks which are light, and can enable agile movement.  I prefer these because when I drum, I either like to play a soft, alternative type of style or a punk style which 5As are made for.  If you want to play any rock or metal, you should definitely use 5Bs.
Q: Which drummers or bands have impacted your decision to play the drums?
A: One drummer that has impacted me is Sean Kinney, who plays drums for "Alice in Chains," because he plays a genre of alternative called grunge. To play grunge, you must use a perfect variation of all of the instruments on your drumset in a perfect fashion.
Q: Have you played in any competitions or gigs?
A: I have not played in any competitions or gigs, but I would like to in the future once my skills have improved to a substantial level.
Q: Do your plans for the future include drumming?
A: My plans in the future are not quite set yet.  I would definitely like to start a band.  That has been my dream ever since I was little, and I think I might have the potential.
Q: What type of music do you prefer to play?
A: I like to play a mix of alternative and punk.  Both are hard because alternative requires delicate movement, while punk requires very speedy, fast movement.  Punk definitely gets the heart racing.  I would have to say the most difficult genre that I know to play would be Jazz, because Jazz requires the usage of all parts of your brain, and it is extremely confusing.
Q: Does drumming change how you listen to music?
A: Yes, I constantly pick up on the percussion in music.  In fact, people probably get annoyed because I am always tapping various beats and rhythms.  I would have to say it does make it easier because it allows for more practice, but just hearing the drums in a track is indifferent.
Q: What inspires you to keep drumming?
A: I keep drumming because I am so passionate about music and I listen to my favorite artists everyday, who inspire me greatly.  I keep drumming because of my dream to have my songs expressed to others.
Q: What are some techniques you can share with others who are interested in drumming?
A: Use your wrists!  Use a metronome to stay on beat. Never practice incorrectly because then what you've practiced will be encoded into your mind, and you will have to practice double the original practice time.  Lastly, and obviously, practice everyday.  You have no idea how much of a difference that makes in your skill.