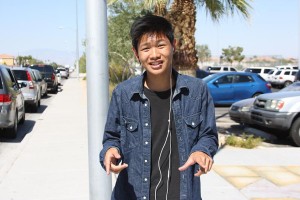 Q: What is your favorite hobby?
A: I love break dancing and creating raps.
Q: What motivates you to keep going with this hobby?
A: One day I dream of becoming an international rapper/artist.
Q: How did you get into rap music instead of any other music?
A: My whole family listens to rap/hip-hop. I have two older siblings that I grew up with and they only listen to rap/hip-hop.
Q: What is a challenge you have been presently dealing with?
A: Trying to take as many honors classes [as I can] so that I can get the advanced honors diploma.
Q: How do you deal with this issue?
A: Managing my time as much as I can to finish as much assignments as possible on time.
Q: What is your dream college?
A: My dream college is Harvard University.
Q: Why do you pick Harvard over other colleges?
A: It would help me a lot by having a diploma saying that I graduated from one of the best schools here in the US.
Q: What area would you be interested in studying? Why?
A:  I'm interested in studying Architecture because I dreamed of being an architect when I was a young boy.
Q: What is your dream career? Why?
A: My dream career is becoming a rapper because of my love of making music and I would really love to see people listening to my music.
Q: What have you done to achieve this dream career?
A: I have been practicing everyday and have taken vocal lessons to enhance my vocal cords.
Q: If you do not accomplish this dream, do you have a fallback career to go to?
A: Yes, if I do not accomplish my dream of becoming a rapper I will continue my course in Mechanical Engineering.
Q: What three words would you use to describe yourself?
A: Courageous, outgoing, Joyful.