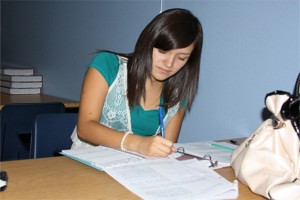 Have you seen junior Vanessa Gomez during a SWCTA Spirit Week? Nobody can outdo her crazy colored hair, pennies on her socks, and Miss Universe dresses. Of all students, Gomez shares her unique and loud personality with teachers and students throughout the school year.
Born in Upland, CA and raised in Las Vegas, NV, Gomez describes herself as friendly, fun, and fierce.
"I'm kind of the definition of the word fierce. That's my character and it identifies who I am. My fierceness shows when taking pictures or handling situations. If I was an animal, I would be a cheetah, because they're fierce, and I think that's the best representation of me," says Gomez.
From extracurricular activities to community service, Gomez is dedicated to her passions. Currently, she is committee chair for Student Council, a committee treasurer for DECA, and a member of NHS.
"Student Council is greater than everything because it helps me express myself, be creative, and show my school spirit, which I love. You gain leadership skills while bonding with the members when organizing school events! We sleepover at the school during the summer and wear costumes too," says Gomez.
Outside of school, she assists the community as much as she can. Gomez completes community service hours most of the year at the Spring Valley Library and the Helen Meyer Community Center, a parks and recreation site.
"You don't want to walk into a library that's all messy—no swag. I help out with the kids that need to stay at the community center while their parents are working after school. I do activities with them and also organize and make the props for the arts and crafts," says Gomez.
Gomez describes her spare time as the "best time." She enjoys hanging out with friends at home, the movies, at restaurants, as well as going on adventures.
"Like a normal teen, I enjoy shopping with friends. Meanwhile, I'm also investigating the depths of man," says Gomez.
With best friends like juniors Chelsea Montoya and Guadalupe Barrientos, she feels that having trustworthy friends is a blessing. She is always having an exceptional time and wouldn't know where she would be today without them.
"They're always there to brighten my day," says Gomez.
Gomez is a daughter, a friend, and loved by many. From going all out on school spirit days to being her loud, yet normal, self, you will have a hard time finding another Gomez.