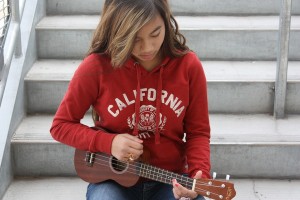 Q: How long have you been singing?
A: I have been singing pretty much all my life, but when I was in 6th grade, I took choir to train my voice.
Q: When did you begin learning to play the ukulele, and how did you learn?
A: I taught myself! I began playing the ukulele two years ago.
Q: What about the ukulele interested you enough to start playing?
A: I play the ukulele, because it reminds me of Hawaii, my home. Most of my family and friends played it, so when I play it I feel like I'm still in Hawaii.
Q: How well do you sing and play?
A: I don't like judging my own singing, but I'd say I sing good.
Q: Why do you play the ukulele, as opposed to the guitar?
A: The ukulele is a part of my Hawaiian culture, and I represent my culture through playing.
Q: What do you like most about singing and playing the ukulele?
A: It is a good way to express my feelings and passion for music.
Q: How much time do you spend practicing your music?
A: I sing everyday, but play my ukulele about twice a week.
Q: What inspires you to keep singing and playing the ukulele?
A: I feel as if I am still in Hawaii. It brings me closer to home, and it's fun because I feel so free when I'm singing and playing.
Q: As a musician, what kind of music and songs define you?
A: I like all types of music, except country and screamo. Basically, the genres I mostly listen to are pop, love songs, dubstep, rap, Hawaiian, and the blues.
Q: How far do you plan on going with your music?
A: Because of my stage fright, I don't think I'll be going anywhere farther than school and home.