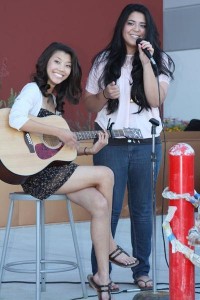 Q: Why did you choose to apply to SWCTA and what made you choose the program that you did?
A: I used to go to a traditional high school and I knew that I didn't fit in quite right there. SWCTA seemed like the best option because my best friend at the time was a student there and I knew I'd have at least one person to fall back on. I chose to be in Hospitality because I knew that even if I decided to go into a completely different field after graduation, I could use what I learned in my program area to my advantage. The possibilities are endless with Hospitality.
Q: Identify what your plans are for after high school. What is your ultimate career/life goal? (After high school, after college, etc.)
A: I keep going back and forth between attending UNLV and looking for colleges in California. Either way, I plan on pursuing my dreams of becoming a performer. Specifically, I hope to be a recording artist and a film actress. Ultimately, I'd love to win an Oscar and a Grammy. Isn't that really every performer's dream? But I'd be okay with just being able to make a living off of what I do. It wouldn't hurt to work alongside some famous names either.
Q: What made you decide to be a performer?
A: I don't think I ever really "decided" to be a performer. I was just born into it. I have home videos of me singing before I could even talk. Then when I could finally talk, all I wanted to do was be in front of a camera, singing, dancing and acting. My passion has always been the arts. It wasn't until I was about ten that I realized that I could be a performer for a living and I haven't turned back since.
Q: Describe how you will achieve your plans of becoming a performer.
A: Getting success in Hollywood can be quite tricky, as a lot of it has to do with luck and connections. During my senior year, I'll be looking into community theatre and acting classes to hone my craft. I'm currently on a search for a local talent agent to help me build my resume and then I'll look for one in LA to get some bigger work.
Q: Do you have a pre-show routine? If so, explain.
A: Tons and tons of push-ups! I'm totally kidding. Before a show I drink lots and lots of warm green tea with honey. It's great for the vocal chords. You'll never see me sitting down calm right before I perform, it just won't happen. I'm usually pacing back and forth or twitching my leg. I like to do various vocal exercises for a couple of hours before the show, but fifteen minutes before I'm on stage I'm barely speaking.
Q: What's your favorite song to sing and why?
A: My go-to song is "Want You Back" by The Jackson 5. It's the one song I can change a million different ways to fit my voice. It's right in my vocal range as well, so I never have to worry about straining to get it right. I've been singing it since I was young, so everything about that song just comes so natural.
Q: How do your parents feel about your career path? How do they plan on helping you with your career?
A: My parents have been coming to every single one of my shows since I was five. They've driven to countless numbers of rehearsals, listened to me sing my heart out at home, and even ask me to perform for them. They support me a lot, but they're still hesitant. As I've gotten older, I feel like they've gotten more nervous. My dad was an actor and he knows the harsh realities of this business. Both my parents accept the fact that this is my passion and that this is what I hope to do, but they won't let me put all my eggs in one basket. By letting me participate in shows, giving me advice, and giving me constructive criticism they've already helped me get started. My mom is more of an emotional support system, while my dad deals with all the business of it. He's told me what producer's look for, what things I'll need to help my resume, etc.
Q: If performing doesn't work out, what will be your second choice for a career path?
A: I haven't really thought about it much. I've always felt that if you have a backup plan you just don't have enough faith in the first one. But as of lately, my parents have been making me face this harsh reality. It would take years and years of failure before I would even consider moving on to this plan, but I would do something in business.
Q: What do you hope to accomplish by the end of your senior year? Whether it is performance related or business related?
A: By the end of my senior year I hope I know which state I'll be calling home for the next chapter in my life! I also hope to have an agent and a few cool new things to put on my resume. Maybe even just get more subscribers on my YouTube channel. Anything that will help my career is welcome.
Q: Why singing and acting? What makes you know that this is what you want to do with your life? What goes through your mind when you are on stage performing?
A: I couldn't imagine doing anything else with my life, honestly. Nothing brings me more joy than the challenge of hitting a high note or creating a character. This is the one thing that I've turned to my whole life and loved it even when it made me go crazy. That's when I realized that I would be silly to not follow my dreams. At the end of the day, I just want to be happy. This, every single aspect of it, makes me happy. All of my thoughts go out the window when I'm on stage. It helps me perform better. When I'm not thinking about the words, how I look, or what I sound like I always enjoy my time more. However, when everything kind of sinks in and I have a few seconds to just look into a crowd- I always think, "I'm home."