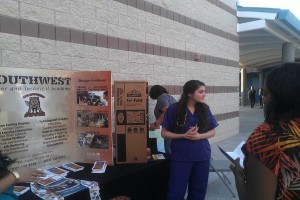 Q: When did you first start speaking at schools and why?
A: I began speaking at schools when I was a freshman. When I was in middle school, we had many speakers visit my school and I became inspired by them, and wanted to represent my school. Over the years, my motivation to become a public speaker at schools grew and when I entered high school, that was what I became determined to do.
Q: Who got you involved in public speaking and how?
A: I spoke with my guidance counselor who directed me to the adviser of a program called "Student Ambassadors."
Q: Do you get nervous when you're in front of everyone, why or why not?
A: At first I was nervous, but once I got on stage, my nerves disappeared, and it was simple.
Q: How long have you been public speaking?
A: I've been public speaking since middle school, but when I entered high school, I officially became a student ambassador. I would say I have been doing this for about five years and it's so much fun!
Q: What schools have you spoken at and about what?
A: I have spoken at several different middle schools across the district. I represent Respiratory Therapy, so I speak of the activities we do. I also give a brief overview of the different programs SWCTA has to offer, and the extracurricular activities we have.
Q: What rewards do you get from being a student ambassador?
A: The reward I get is having the privilege to speak to different students at different schools. It's also rewarding to have my voice heard.
Q: Do you plan on continuing to be a student ambassador, why?
A: Yes, I do plan on continuing to do this. In the future, I hope to speak to an even bigger audience and be the change in our world.
Q: When is the next opportunity available for you to be speaking at, where and what will you be talking about?
A: I will be visiting another middle school, I'm unsure of which one yet, and I will be speaking about what we have to offer.
Q: Do you think the students you speak to actually listen? How do you know that?
A: Yes, I know they are listening because right after I finish speaking, I have huge groups of kids come to the SWCTA booth asking for information on how to apply.
Q: Would you recommend the Student Ambassador Program to other students, why?
A: I highly recommend other students to do this because it makes you more confident and you're able to change the lives of other students. You are given the opportunity to motivate others to attend a magnet school and succeed in what they plan to do for their future. The student ambassador program prepares you for future presentations, interviews, and your career.