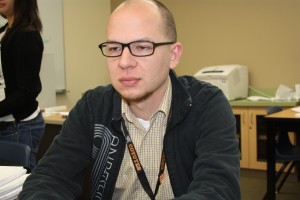 To you, he may seem like just a regular guy teaching English I and Journalism I here at Southwest Career and Technical Academy. But really, he is a guy full of surprises that are just waiting to be revealed.
Mr. LaPorte graduated from DePaul University  with his Bachelor of Arts and Masters of Art in English in 2006 and moved to Las Vegas to pursue a teaching career.
Before becoming a teacher, LaPorte was interested in becoming an entertainment journalist.  When he came to Nevada, he worked shortly for the UFC, substituted at Biltmore Continuation and became a teacher at Eldorado High School in January 2007.
"The UFC was a great place to start when I moved here. I got to see Chuck Liddel destroy Wanderlei Silva at UFC 79," says LaPorte.
Mr. LaPorte currently teaches the Journalism and the professional academy freshman English courses at SWCTA. The level of freedom is what he enjoys about English and he likes teaching journalism because "students are in charge of informing the student body about things they don't know about and what's going on."
If given the opportunity , he would like to teach speech, a class similar to theater, that helps people learn how to effectively speak in public.
Mr. LaPorte is just like a 26-year-old version of a teenager. When outside of school, he likes to sleep, perform karaoke, and play video games. His Playstation 3 and Wii give him "something to use to take a break."
He also likes to go to concerts, shop on Amazon, and listen to popular hits playing on the radio. Believe it or not, he has a little obsession about Lady Gaga. He claims that Gaga is his girlfriend and that they see each other every weekend.
"I like to listen to Lady Gaga because of her music. She's fun to look at and she says bizarre things," Mr. LaPorte says.
This dedicated teacher may look boring or strict when you first look at him, but he is actually a fun teacher when you take the time to get to know him.