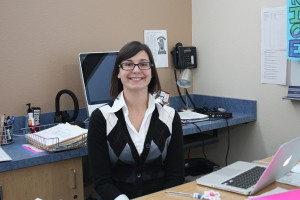 In March of 2009, Mrs. Jennifer Brant was hired at Southwest Career and Technical Academy to teach AP and regular World History, as well as open a new school in the Clark County School District.
The University of Northern Colorado graduate from Littleton, Colorado, transferred to SWCTA from Canyon Springs High School for "the new experiences of opening a new school."
While obtaining her Masters Degree in Administration, Mrs. Brant was vigorously preparing for the new school year. She has never taught World History, so she is constantly creating lesson plans to help students learn and retain information essential to passing tests and the AP exam.
Since she was a young child, Brant knew she wanted to be a teacher to help kids learn and see their success, although her "fear of being a bad teacher" raises her stress level constantly. She handles this stress by swinging on swings, taking long walks, and exercising.
"There are many possibilities to it," according to Brant on why she enjoys teaching history.
Her favorite subject in high school was history, so it only seems fitting that her favorite subjects to teach are Economics and U.S. History. Brant is becoming increasingly fond of World History and its wide scope and variety of information.
Although she wishes she could have a job with no work at home, she is inspired by her mom and husband who keep her motivated to continue teaching, attend professional developments, learn new information, and "make a difference."
"My main goal this year, and I know I'm aiming high, is to have 50% of my AP students pass the AP exam with a three or higher," said Brant.  "It's all in the motivation of the student."
It takes extra effort, extra studying, and motivation, but she believes we can do it.