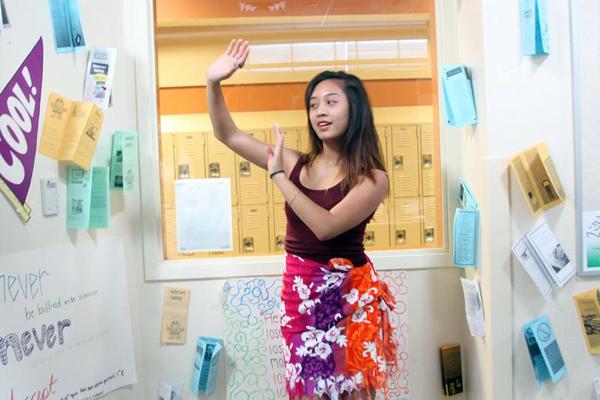 Q. What inspired you to become a Tahitian dancer and at what age did you start?
A. My best friend inspired me to become a Tahitian dancer because she is very fit and offered Tahitian dancing as a way to make that happen. I started Tahitian dancing at age 11.
Q. What are some of your major difficulties when you started dancing?
A. The difficult part of Tahitian dancing is having the energy to keep moving your hips while in a squatting position for such a long period of time.
Q. How did you balance your social and school life when you started practicing and going to competitions?
A. It was very difficult balancing social life, academics, and Tahitian, but I thought of what was more important. School would come first, then Tahitian.
Q. What are some of the benefits you have gained from dancing?
A. Some benefits of dancing are that it's very good for your body. You become more toned in areas and its a nice talent to have.
Q. If you could performer in any venue you want, where would it be and why?
A. If I could perform anywhere, it'd be Tahiti because that's where the dance originated. It'd also be nice to see what the culture is like.
Q. How important is dancing for you? And what would you do if you didn't dance?
A. Dancing is definitely fun, but more like a hobby than anything. If I weren't doing Tahitian I'd focus more on playing the viola.
Q. What is your workout routine? What are some of the perks in your routine?
A. A Tahitian class is an hour long, and we start the class off with some warm ups and stretches. Then we go into practicing the usual hip routines. Once our hips are warmed up, we learn or continue to learn the choreography of a song.
Q.Do you do any other kind of dancing?
A. I don't do any other dancing other than Tahitian, but ballet is very fascinating to me. I used to be a ballerina in elementary school, and it still amazes me how they are so graceful!
Q. Would you teach your children in the further Tahitian dancing?
A. If I were to ever have children, I would teach them Tahitian if they were interested. I wouldn't want to push them into something they wouldn't want to do.
Q. What advice would you give for dancers wanting to start doing Tahitian?
A. For future Tahitian dancers, don't give up! The first class may seem difficult if you're inactive, but in the end it'll all pay off and you'll have something to do with your life.