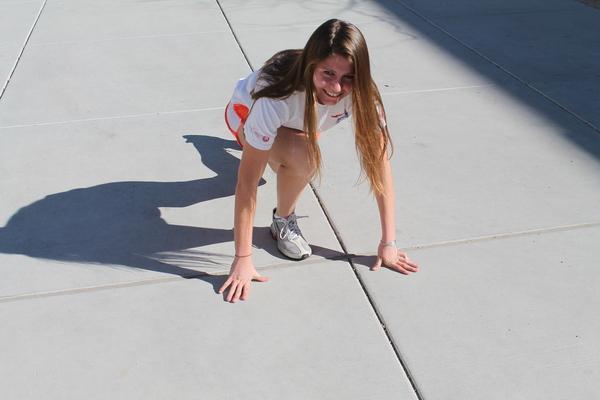 Q. What made you interested in participating in track this year?
A. I ran cross country last season; the people are amazing and great to hang out with. It's also a great workout routine and helps keep me in shape.
Q. What events in track do you run? What is the most difficult thing about that event?
A. I run in the long distance race events. The most difficult aspect of my event is keeping a steady fast speed for a long time.
Q. What school do you play for? Is it a hassle doing a sport at your home school in your opinion?
A. My home school is Desert Oasis High School, and I run for their track and field team. My parents often have a hard time driving me sometimes because of the distance between the two schools.
Q.  What is your favorite part about being on the track team? Why is that your favorite part?
A. My favorite part of being on a track team is the people; they are like my family. Most of the people have been my friends since elementary school, and we can bond through track.
Q.  Did you participate in any other sport besides track? If so what was the activity and did it influence you to join track?
A. I ran cross country last season and also played soccer freshman year. Cross country influenced me in choosing my event since cross country is long distance running.
Q. How do you manage your time with school and sports? Do you have a certain schedule or regimen that you follow to keep yourself in order?
A. I'm very busy because I also play the piano and play in piano recitals. During the weekdays I go to school, and I usually get home around 3:30, then I eat, practice piano for about an hour and later I finally start my homework.
Q. How do your parents feel about you joining track? Are they supportive?
A. At first my mom did not want me to join track because she felt as if I would be too busy; she plans on enrolling me in SAT prep classes. Now she understands that I love it too much and I'll do anything to stay in the sport.
Q. Does track affect other aspects of your life? Ex: friends, weekend, school, etc.?
A. Yes, I get to hang out with many of my close childhood friends and I have met many new amazing people. On weekends there are meets so I have to spend some of my Saturdays running in the meet. Overall, I think track makes me live a happier life because without track or cross country I would become very bored and lazy.
Q. What is one thing about track that you would change? Why would you change that part?
A. I wouldn't change anything about the sport, but if I could, I would make Southwest closer to D.O. so that the transportation would be easier for my parents
Q. Is there anyone at our school on your track team? How is it like going to school and track with them?
A. Yes Aleksander Dimitric. I actually met him through cross country and I didn't know he went to my school since I was new this year.