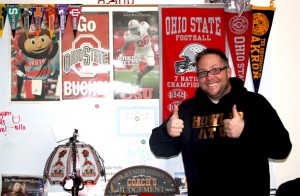 With a classroom decorated with Ohio State Buckeye trash bins, lamps, and posters tacked on the wall; one would think that the objects alone would be enough to display one's true pride. Zachariah Douglas, 11th grade U.S. History teacher, thinks otherwise. He believes his classroom decorations are not adequate, so he constantly reminds his students that he is the "Ultimate Buckeye Fan."
"I love Ohio State so much that I can actually say I bleed scarlet and grey. Gooooo, Buckeyes!" Douglas screams.
Last year, Douglas put his pride on the line and made a bet with his student Trevor Dawson who is a huge Michigan State fan. During the Michigan versus Ohio State game, Douglas swore to wear a Michigan sweater if the Buckeyes lost, and Dawson would have to wear an Ohio State sweater if the Buckeyes won.
"There was no way Ohio State was going to lose, and absolutely no way I would wear a Michigan sweater. My prediction came out right, and it was pretty hilarious watching Trevor wear an Ohio State hoodie for the rest of the day. I even took a picture and posted it on my website," Douglas stated.
The pride does not stop there. This may be unknown to many people, but Douglas commemorated his love for Ohio State by receiving an "O" tattoo.
"There's a lot of things that will change, but being a Buckeye fan is something that will never change so I will never regret this tattoo," Douglas stated.
The big question is… "Did Douglas attend Ohio State?" It may be shocking to many, but the answer is "no."
"I got accepted to both Akron University and Ohio State, but I chose Akron because I knew for a fact that Ohio State had too many distractions. Even if I didn't choose Ohio State, I still love the school and support the team," Douglas admitted.
One of Douglas' dream is to be able to meet and bond with the whole team for an entire day.
"I would especially want to meet the head coach. He is a living legend right now. He is one of the greatest coaches, and he won two championships in Florida," Douglas stated.
It is no lie when Douglas says he bleeds scarlet and grey. If there were a competition, he would definitely be crowned the "Ultimate Buckeye Fan."