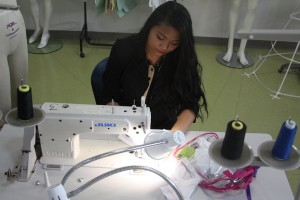 Q: How did you become the vice president of Fashion Club?
A:  With fashion club being a new club at SWCTA, everyone was open to running for office. I chose to run for vice-president this year as opposed to president, because I wanted to gain a better understanding of how to run fashion club, and so I can save the presidency for my senior year.
Q: What are some of the perks you have for being vice president?
A: I'm able to be one of the first juniors updated on all of the fashion events throughout the whole year and I get to discuss with Ms. Cassandra Pawling about event ideas for the junior fashion class.
Q: What are some of the responsibilities you have as vice president?
A: I am in charge of keeping the junior fashion class on track and updated, and most importantly, I am in charge of putting on all of the junior fashion shows throughout the year. Right now, there is a total of five upcoming fashion shows this year.
Q: How would you describe your love for fashion?
A: I think fashion has taken over my mind; I love fashion. I can casually walk around school and point out if a person's outfit is in style or not and then I imagine ways I can make their outfit better.
Q: What are some events or happenings that you were able to be a part of because of your position?
A: One of the events I am able to attend being VP is the FIDM Debut show with the seniors, which the juniors are not a part of.
Q:  Being Fashion club VP this year, what are your plans for next years term?
A: Running for president next year, if I'm elected, I plan on being on top of everything with the senior class, just like I am right now with the junior class. I also plan on making the most memorable fashion shows that SWCTA has seen so far.
Q: What are some of the goals you hope to accomplish throughout your term in office?
A:  I hope to have the most memorable fashion shows that SWCTA has ever seen. I want to keep the audience amazed and talking for years. My goal is to set the standards and be remembered as the girl who put on the great fashion shows.
Q: Do you plan on fashion as a career, or just a hobby after high school?
A: I most definitely plan on having a fashion career after high school. I either want to be a costume designer, a stylist, a fashion forecaster, or just have my own store with my cousin which we've been planning for years.
Q: How has the role of VP of Fashion club benefited you as a person?
A: It has improved my leadership skills so much. I naturally am a leader, but I used to be so independent with my choices and kind of bossy, but being VP, I learned how to have friendly discussions with multiple people before making a final decision.
Q: With MTV searching for unique fashion clubs to film throughout the whole state of Nevada,  why do you think that SWCTA's Fashion Design class would be the perfect cast for the upcoming MTV documentary?
A: I think that our fashion program will be a good cast because there is diversity of designers and styles, and everyone is great at expressing who they are through their designs.