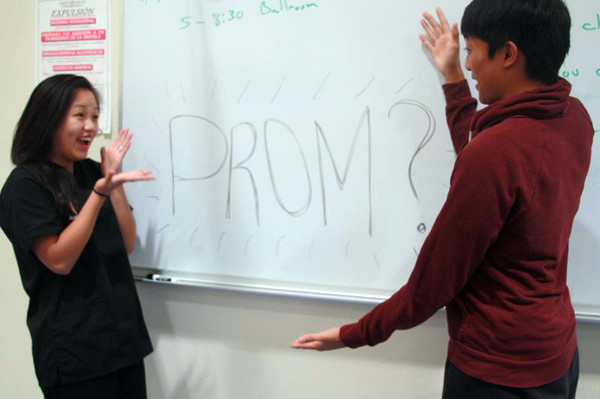 Prom season is quickly approaching and dress shopping anxiety is ever-growing. After a quick personal analysis, I would say that this occasion has much more to do with the girls than the boys. Sure, boys have to work up the nerve to ask the girl and earn some spare cash for the expensive festivity, but the unnecessary stress that comes along with girls planning for prom can be unbearable. So, here are some quick tips on how to make your prom planning as easy as can be.
1. Finding the dress
Forget what color the guy wants to wear in this situation. Simply tell him, this is what you want and nothing else matters. Dress shopping is tedious and if you are having to narrow your options just because the guy wants to wear a hot pink tie, you will have a much more difficult time finding the dress of your dreams. Also, make it fun. Take your mom, your best friend, your aunt, your grandmother, or anyone who will make the experience less stressful, because you will be much more relaxed and comfortable when finding the perfect attire. Try to find a dress that you can feel comfortable, mentally and physically. You deserve to feel like a princess for one night.
2. Can't forget the bling
After you have found the dress, it is time to shop for the accessories. Remember, that the focal point, is in fact, the dress. So, if you cannot find just the right color of red to match your ruby dress, the pair you put away earlier will do the same job. Try to not stress yourself out by trying to make everything absolutely perfect. By the end of the night, you won't be thinking about your shoes anyway. I would deem them of lesser importance than other accessories.
3. Strut your stuff
This is a tricky topic for me because I have never been one to care too much about my shoes. I always go for comfort over style. I do not want to have to take off my shoes once we start dancing, but if it comes to that,  then so be it. Most prom dresses are long, so don't worry too much about your shoes. It all depends on the dress. I would look for something that is the best of both worlds; comfy and stylish.
4. The best "do" for you
It is now the day of prom and it is time to add some blush and hairspray to your look. Finding the right hairdo for prom is never easy, so I would definitely do some research before going to the salon. Choose between an up-do, down, or half-up and which one will look best with your dress. Then, begin looking through a few magazines and the Internet is always helpful. Before you panic after looking at yourself in the mirror and the stylist missed a few strands, take a deep breath and remember how beautiful you look. No one has the same hair and not everyone can have the same hairdo as the picture of the celebrity that you showed the stylist. As for the make-up, try not to stress this aspect either. You can always do your make-up yourself or pay for someone to do it at a local salon or department store.
5. The Day Of
Leave the dinner to the guy. In your typical prom situation, the guy plans the dinner or after-prom plans. Sometimes it can be difficult to give up such a huge part of the planning because men can be incompetent with planning, but encourage your guy to take part in making both of your nights much more enjoyable. You can give him your input, but without these worries, you will more relaxed. I'm sure he will ask his friends and family for their input on how to make the night wonderful for you. Prom has definitely changed throughout the years, but sometimes sticking to traditions and having the guy treat you to a nice dinner can be pleasant for the both of you.
Prom is supposed to be fun. Do not stress the small stuff and stay focused on enjoying yourself. Have fun with your date and your friends. High school is almost over. Use this time to celebrate high school and all of the wonderful memories that come along with it.