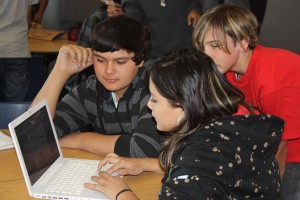 Uncooperative teammates? Unfinished work? Unorganized teachers? Mental breakdowns? All of these can be obstacles when dealing with projects. At a project based learning school, such as the Southwest Career and Technical Academy, stressful situations can be very common for students that are new to the project-based learning (PBL) process. These tips can aid students, so they do not dread the process anymore.
Lay down the law
For every PBL group project that takes place at SWCTA, there are team contracts. Do not disregard this assignment and type up vague terms and clauses. This could backfire when a teammate is not participating in the project, and the rest of the team wants to penalize them. If it is not clearly stated in the contract, the teacher cannot do anything about it. Once it has been agreed upon, sign it and do not forget to enforce it!
Procrastination is a no-no
This actually applies to all work. Procrastinating will not help but instead lead to piles of unfinished work and plummeting grades. Finishing the work when it is due will allow for personal time, texting with that cutie in math or finishing the unbeatable level on Call of Duty.
Think outside the box
Creativity is great for PBLs! Poster boards and Powerpoints are not going to make the cut anymore. Most teachers enjoy a project with a personal touch that displays a great deal of effort. Grading the same project over and over with no pizzazz will get boring. So make it memorable, and it could possibly boost the grade.
Speak up
Teammates cannot read each other's mind. Do not be afraid to give ideas for a project; they could possibly love it! Also, speak up if another teammate is not contributing to the group. Not to the teacher, but to the student directly. Warn them of the consequences that they agreed to in the team contract. If they do not change, notify the teacher of what is happening and assign the consequence that was agreed upon. They will realize the importance of helping out once they see their teamwork/collaboration grade as an "F".
Practice and be prepared
The worst thing is a fantastic deliverableand a horrible presentation. Rehearse what each team member is going to say during the presentation a few times until the whole group is satisfied. Writing bullet points on note cards are helpful for when it is a lot of information, however, do not read right off them! Note cards are for notes, not the whole script. Make sure everything is ready for the presentation; all laptops are charged, videos work smoothly, everything is in the right format, and teammates know what they are doing.
Stop stressing
Projects are not just assigned to make student's hair fall out going crazy over how to do the project. Have some fun! Take a breather and relax.